Proper planning prevents poor performance. The Five P's may sound trite and cliché, but that doesn't make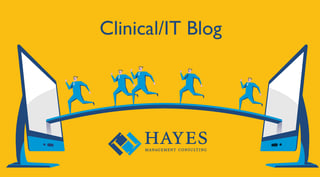 it any less accurate. It's especially good advice when you are about to go through an IT transition.
The upheaval in the healthcare industry is creating an unprecedented number of IT changeovers because of provider and vendor mergers and acquisitions, or the need to upgrade to meet the requirements of the Affordable Care Act (ACA) and MACRA. In 2017 alone, nearly 50 health IT companies and over 40 healthcare organizations have been involved in a merger or acquisition.[1],[2]
Even if M&A activity isn't on your immediate horizon, there is still a serious likelihood of change. The number of clinicians replacing their EHRs has increased 59 percent since 2014.[3] Nine percent of acute care facilities and 11 percent of ambulatory facilities are looking to replace their current EHR.[4] Half of large hospitals were planning to replace their EHR systems as of 2014.[5]
Implementing a new EHR or practice management system while maintaining current operations on the legacy system can pose significant challenges. The best way to overcome the obstacles you will face is by laying out a detailed plan before you start. Here are three key steps you should consider as you prepare for your transition.
Develop your staffing plan
Achieving success with any major project starts with putting the right people in the right jobs. Making sure you have adequate resources in place for the transition is your first order of business.
Every project needs a strong leader and your transition plan should have a dedicated project manager (PM) at the helm. He or she will be crucial to keeping everyone on track. Your PM will also need to sort through and resolve conflicting priorities and "put out fires" to prevent the team or vendor from getting distracted.
Implementing the new system will likely pull some of your key staff members from their current every day duties. It may be tempting to have them pull "double duty" by trying to continue to manage the legacy system while learning the new system. That is mostly likely a mistake. Splitting their time will likely result in reduced effectiveness on current tasks while preventing them from getting a clear understanding of the new system. Both ends of the transition will suffer.
A much more prudent approach is to consider bringing in temporary resources to manage the legacy system including the help desk while your key FTEs get up to speed on the new system. This will not only help ensure the success of the new system but will also make sure issues with the legacy system are taken care of promptly during the transition.
Your staffing plan should be a detailed outline of specific roles and the number of resources – either internal or external – needed to fill each. Proper planning ahead of time will prevent organizational leaders from being shocked at the small army of people required to accomplish all the needed tasks.
Some of the heaviest burdens during a transition fall on the IT staff. They are being asked to implement a new system while still maintaining full functionality of your legacy system. The new system will require them to build and modify the new system interfaces and assist users as the new system goes live. Again, contracting with an outside resource partner can be crucial in helping to relieve the pressure on your IT group.
Interim resources can also help perform the tasks of A/R representatives, payment posters, and client service representatives which can also help ease the burden on internal staff.
Finally, think about the number of people it will take to adequately train and support the organization during the go-live. This includes staff in remote physical locations. Some departments may need one-to-one support while others may need just a contact to call in the event of issues.
Establish your system translation plan
Your new and old systems will be able to perform similar processes, but the language of the two will be very different. Solving that problem requires translating the terms of your legacy system into those of the new system. This crosswalking project presents a perfect opportunity for outsourcing.
An outsourced partner fluent in the terminologies of multiple systems can help reconcile the references in each system. Look for a resource that combines knowledge of both your new and legacy systems with real-world operations experience.
The translation plan should involve documenting KPI's between the systems. This is a crucial step to enable you to compare performance before and after the implementation. It should also include comparing the features of the two systems. The new and legacy system will often have similar functionalities but the location and user interface may be slightly different. Highlighting these differences and making them part of the new system training is critical in achieving a successful implementation.
Map out a project timeline and appropriate budget
Setting expectations from an operational and financial standpoint prior to the transition is critical. You don't want surprises in either area to derail the project. This means developing a realistic project timeline and budget.
Schedule and budget planning will vary depending on whether you choose a Big Bang rollout or a Staged go-live approach. With a Big Bang rollout, everyone goes live on the system on the same day. The Staged approach involves going live with only a portion of the total new users at a time –– working out the bugs, then bringing on more sites and providers gradually.
While the Staged approach is less disruptive from a clinical perspective, it forces the organization to be live in two different systems. This can play havoc with both internal users and the finance group.
A Big Bang rollout can be overwhelming, but is effective when the organization is involved with many revenue integrity projects. It also eliminates the finance problems that arise in a staged approach.
When budgeting in either scenario, understand that the cost of the system software itself is a small fraction of your overall outlay. Nearly half of the cost is in the resources required to implement the new system and support the old. This is a crucial point. Many organizations fail to adequately budget for interim outsourced resources so that when they are inevitably needed, the costs can result in budget overruns. Accounting for these costs up front is important.
System changes are complex and difficult, but proper planning before the project begins can go a long way to eliminating problems and ensuring a successful transition.
For more in-depth information, feel free to download our white paper, The 5 Stages of Every Healthcare IT Transition: From Planning to Decommissioning, What You Need to Know.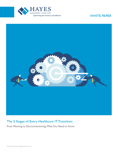 [1] Running list: 2017 health IT mergers and acquisitions, Healthcare IT News, November 20, 2017.
[2] Healthcare mergers, acquisitions and joint ventures in 2017: Running list, Healthcare Finance, October 6, 2017.
[3] Dissatisfaction leading to EHR replacement trend, by Mike Milliard, Healthcare IT News, June 17, 2015.
[4] Physicians Frustrated with EHRs, but Most Won't Replace Systems, by Rajiv Leventhal, Healthcare Informatics, October 10, 2016.
[5] EHR Swaps Coming for Many Healthcare Organizations, by Alison Diana, InformationWeek IT Network, May 8, 2014.