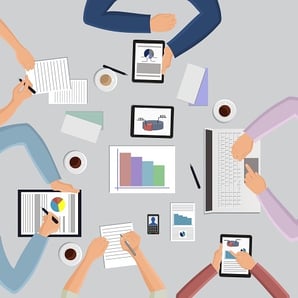 When you think of implementations, transitions, adoptions, or conversions, it's normal to think in terms of preparation, planning, and go-live. But what about post go-live? There is a massive transition that occurs between go-live and system optimization, often leaving you feeling like you're mid-swing on a trapeze hand-off. Many projects are implemented successfully but the closure and transition of the project to operations and long-term support team are not always as successful. But here's the thing, project closure is equally as important and should be planned for in the beginning by including the process in the project charter and project management plan. So how do you ensure your project transitions from go-live to optimization successfully? Here are four tips to consider.
Plan ahead for project closure - Project closure criteria and process should be defined and included in the project charter and the project management plan. Ensure that the stakeholders have a clear understanding of the project closure criteria and process when they sign off on the project charter. If needed, develop a checklist of deliverables that can be reviewed with the stakeholders throughout the project.
Obtain sign-off on final deliverables - A successful project closure requires customer acceptance. Final deliverables need to be approved by the customer. A good project closure document should include:
Goal/Objective Review
Deliverables Review
Success Criteria Review
Operations and Maintenance post go-live
Project Closure Acceptance/ Sign offs
Ensure all issues are either resolved or transitioned successfully to operations or long-term support team. If there are any future risks they should be discussed with the operational owners and the long-term support team.
Document lessons learned - Lessons learned should be documented during every phase of the project starting with the initiation phase. At the end of each phase, project managers should ask the project team, leadership, and the customer to document lessons learned for that phase. Be sure to include successes and challenges. Lessons learned will help future project teams avoid negative events, which will save time and money but also will improve the quality of the project. An effective lessons learned document should include:
Lesson learned
Proposed action
Implementation strategy
Archive all documentation - All project documentation should be archived for future reference and audit purposes. Archived documentation provides valuable information for planning future projects, on-going product support, maintaining the project, and audit purposes. Archived documentation should be stored in a central location like Sharepoint that can be accessed by operational owners as well as the on-going support team.
I've worked with organizations who didn't plan project closures which caused issues when the project was complete and ready for transition I've also witnessed scenarios where operational owners requested more on-site support than what was planned and resources were not available since they were assigned to a new project.
Some organizations do not document lessons learned or don't archive them properly at end of each phase of the project or at the end of the project. This resulted in same issues coming up again in the future projects which caused frustration for the project team and the customer. This also resulted in asking the project team to come together and complete documentation six months after the project was completed.
By planning ahead organizations can save themselves many headaches as projects transition. While it seems like one more thing to do, it's a crucial step that can save your organization time, money and frustration.