The project list for a transition to a new EHR or practice management system can seem endless. But even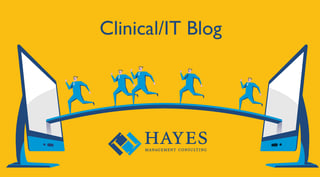 with a lengthy, comprehensive task list, one key component of a system transition is often overlooked. How are you going to support your legacy system during the implementation of your new system? Despite regularly being ignored or discounted, developing a plan for legacy system support is one of the most important things you can do in your transition planning.
The default for too many organizations is to try and use existing FTEs to handle both legacy support and new system implementation. As it often turns out, however, this can be a flawed strategy which leads to reduced efficiency in current operations, increased errors and costs, surge in user and staff frustration that in some cases can lead to significant employee attrition.
As revenues shrink and margins tighten, chances are your resources have already been reduced. Asking your already overworked staff to assume more responsibilities without expecting a negative impact is unrealistic. Those organizations that understand this problem up front address the issue by augmenting current staff with temporary help. In many cases that takes the form of either managed services to handle the help desk or adding resources to help take on other legacy support duties.
Here are five benefits of staff augmentation during your system transition.
Reducing Costs
One of the key justifications in moving to a new system is the cost savings to be generated from efficiencies, reduced licensing and staff reduction resulting from the new system implementation. If you don't think through how you will accomplish these goals, however, you may fail to realize these expected savings.
A streamlined billing operation with the new system can result in real savings but failing to support the legacy system and wind it down properly can prevent you from realizing those savings. A lack of a defined plan – and resources – to appropriately handle legacy A/R, for example, can force you to run parallel systems for longer than anticipated. This means keeping a larger staff to run two systems instead of the hoped-for single new system and increased licensing fees as you keep the legacy system up and running.
Bringing on temporary resources experienced in system transitions and A/R wind down can ensure that you make the changeover effectively and shut down the legacy system faster. This allows you to implement the promised staff reductions and recognize the cost savings.
You may also see increased errors in current operations from overworked staff who are distracted trying to handle the increased workload. This can result in increased credits, appeals and denials that add to your costs.
Finally, contracting interim resources can save you the costs of hiring, training and then discharging permanent FTEs to support the legacy system for only a short time. Working with an outsource partner experienced both in your existing and new systems ensures a quick ramp up and cost-effective coverage and support during the transition.
Maintaining service levels
You can't lose focus on current operations during a new system implementation. Business and clinical staff must keep the organization running effectively and they need the existing legacy system to be running efficiently to accomplish that.
Third party resources can come in, take over your help desk and maintain the high level of support that your users have come to expect. Not only will this keep your operation running smoothly, it also frees up your permanent staff to work on the new system implementation. Allowing them to learn and train without distraction will go a long way to ensuring an efficient changeover and prevent service interruptions with the new system following go-live.
Relieving staff/user stress
Changing to a new system can be extremely stressful for your staff and users. Staff can become overwhelmed by the demands of learning the new system while trying to keep the existing system going. Users who fail to get adequate support trying to get their work done on the legacy system can become frustrated. These problems can result in attrition that can prevent you from having your most effective and productive employees following go-live of the new system.
Temporary third parties help can provide the relief your staff needs to juggle increased responsibilities and allow users to continue to perform the tasks necessary to provide patient care and keep the business running smoothly.
Enabling more effective training
Asking staff to perform dual roles of learning the new system while supporting the existing one often results in a lack of success in both areas. To realize the benefits of your new system, staff and users must be thoroughly trained to prevent any glitches following go-live. To get everyone up to speed, you must provide time for appropriate training. That can be difficult to do without added resources from an outsourced partner.
Eventually everyone will be operating with the new system so it's important to have resources available to allow them to train properly. This will help keep staff engaged, satisfied and be a major step toward ensuring the success of the new system.
Infusing new ideas and best practices
Bringing in interim help can provide benefits beyond just relieving staff and supporting your legacy system. A third party organization can provide experienced, "hands-on" staff at the operational and management level who can work closely with your leadership to not only fill gaps but to help you manage the change process.
Temporary staff has the advantage of working with many other organizations in the industry and can bring in best practices and new ideas you might consider as you transition to your new system. They can provide guidance in helping you establish critical success factors including reporting recent or unexpected performance trends, changes in your organization, staff issues and vendor relationships.
Going through a system transition presents a host of challenges which may be difficult to overcome with existing staff alone. To ensure a smooth changeover and to increase the odds of a successful implementation, consider augmenting your staff with an experienced outsourced partner.
For more information on successfully navigating system transitions, download our infographic, Facing an IT System Change? Six Keys for a Successful Transition.