We've all heard the expression, "Rip off the Band-Aid" and yet it still makes us flinch. It is human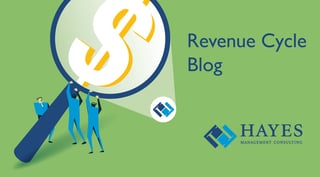 nature to recall previous effects associated with a painful or hard decision. Often times, we are left with the sting of the decision long after the proverbial Band-Aid has been ripped off and other times we sigh with relief and think, "that wasn't so bad after all!"
The healthcare revenue cycle of today is continuously changing and it requires a lot of heavy lifting to ensure the changes required are managed in our electronic databases are well communicated to staff and, most importantly, have minimal impact on the patient's overall experience. During times of great change, operations and technology will encounter circumstances that will require a lot of careful thought and analysis to deliver the best possible solutions where time is also of the essence. So how do you balance an optimal delivery of high quality work within an acceptable time frame?
Following these five tips will allow you to understand, mitigate and weigh your options without the dreaded presence of Analysis Paralysis.
Tip 1: Develop a Plan
A well-defined plan should include:
Goals, objectives and deliverables
Timelines and Gantt charts for each goal, objective and deliverable
Include a plan B and downtime processes as needed
Ensure the plan is accessible to all individuals working on the project

Meet regularly to discuss deadlines and obstacles

Develop a lookback or follow up plan and continue to take the pulse on your project after it has been put into motion to ensure it has been adopted by staff and has aligned to meet the needs of your pursuit
Create a playbook with the rollout plan, strategy, support and governance policy
Tip 2: Carve Out the Low Risk and Low Impact Steps
Tools to evaluate best practice, processes, vendors and products will vary. When a decision needs to be made to prioritize the significance of the steps within the project, use weights. Sometimes, the low-hanging fruit becomes part of the optimization process and can be moved to the follow up plan.
For example, in a project that uses a physician's order to drive a scheduling and authorization process, it would be important to determine the steps and weight associated with the optimization to determine significance.
Sample of rating based on significance and the risk:
| | |
| --- | --- |
| Will impact patient care/experience and financial services | 5 |
| Will impact patient care/experience | 4 |
| Will impact financial services | 3 |
| Will impact end user experience | 2 |
| Save time/save clicks/nice to have | 1 |
You may also need to evaluate impact based on volume for a project where the number of users will be impacted by each step.
Sample of rating based on impact:
| | |
| --- | --- |
| Enterprise | 5 |
| Multiple applications or multiple departments | 4 |
| One department | 3 |
| Single group of users | 2 |
| Single user | 1 |
Moving the 1's and even some 2's to a post go-live or an optimization plan will keep you focused on the bigger picture and will ensure that you are on track for achieving your goals of the project.
Tip 3: Subject Matter Experts
Identify a core group of specific Subject Matter Experts (SMEs) related to your project. Use your subject matter experts as your final decision makers or tie breakers when you find the project at an impasse. For example, if your hospital is installing a new Eligibility tool you would want to have SMEs assigned for Scheduling, Pre-Registration, Registration, Charge Master, Contracting, Billing/Denials and management of departments that will be using the new tool.
Develop sub-committees or appoint contacts for areas of light impact that require decisions.
Tip 4: History Doesn't Always Repeat Itself
As quickly as healthcare concepts and technology turns around, it is becoming a rare occurrence that the same sequence of events takes place more than once. Sometimes, you've got to think ahead, leave the past behind and give something new a try.
If you are a visual thinker, use Visio to map out the existing workflow and highlight the areas that require change and concentrate on the pieces that need to be changed instead of all of the schematics along the way. For example, you may find the required change is specific to one group of end users and may not require an interface!
While some pesky problems tend to pop up during a project, try not to invent addition ones by falling into the "what if" trap (What if the interface doesn't work in the production environment? What if an end user is unable to follow the instructions? What happens if the patient is billed for the wrong amount? What if we contract with a third party payer from the planet Mars?). When a "what if" scenario happens, it should be added to your optimization list and further evaluated so as to prevent this particular history from repeating itself.
Tip 5: Just Do It!
Once you've created your plan, scored your low hanging fruit to carve out for optimization, put together your subject matter expert (SME) team, you've set up a blueprint for your last step: Execute!
All these tips are designed to help you organize the path from beginning of the project to the optimization. Having these tools available to you when the project begins is a great way to prevent analysis paralysis and allow you to execute your project with as much efficiency as possible.
Throughout the project, remember your goal and think about the profound and positive impact it will have on your organization. Go for it! Roll it out with confidence knowing you have your tools in hand and then you'll be ready to support your subject matter experts, users, patients, and ultimately – your entire organization.
In the words of JFK, "change is the law of life." When it's necessary and well planned, change can lead to better patient care and a more effective healthcare industry.
For more information on revenue cycle project planning, feel free to read about Huntsville Hospital Health System's revenue cycle optimization project with Hayes.