Organizations about to undergo an IT systems transition must develop a comprehensive task list to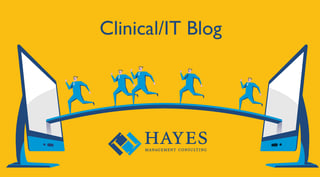 ensure the project is successfully completed. However, one of the key aspects of the conversion is sometimes overlooked: how is the retirement of the legacy system to be handled. The legacy system being replaced still must be up and running and properly maintained to ensure it services the needs of the organization during the implementation. Failure to include a plan to make that happen can have serious negative consequence in terms of efficiency and productivity. It can also affect patient care if clinicians aren't able to rely on the legacy system to do their jobs during the transition.
As you prepare for your implementation and legacy system retirement, here are six questions to ask to help you develop your plan.
What should I include in my budget?
No doubt one of the key drivers of your new systems implementation is the promise of cost savings through consolidation of tasks or greater efficiency enabled by more advanced functionality of the new system. If successful, your new implementation will likely deliver the expected financial rewards. What may not be quite so obvious is that there is a cost to ultimately realize those benefits and you should budget carefully to account for those costs.
In a typical IT transition, nearly half of the overall expense is for internal and external resources needed for the implementation. Many of these resources will have to be devoted to keeping the legacy system operating during the transition, and you need to make sure to budget for these support activities.
Three main areas to include in your budget are:
Staff Augmentation – bringing qualified personnel in-house to work side-by-side with full time employees to support gaps during the migration to the new system.
Managed Services – a traditional approach to IT outsourcing where the supplier assumes control over the help desk and offers service delivery commitments to maintain/exceed service level agreements of the legacy system.
Receivables Management - support to perform A/R tasks, relationships, processes and wind down.
How do I keep staff sane and effective?
Change can be stressful for most people and transitioning an IT system falls into the "highly stressful" category. The last thing you need is for people to become frustrated, limiting their effectiveness and productivity.
The first step in maintaining a healthy environment is to clearly define expectations. Don't let your team members be pulled in two directions – wanting to maintain levels of service in their present roles with the legacy system while also feeling the need to learn about the new system. To eliminate these frustrations, assign staff so they clearly know their responsibilities and can focus on accomplishing them.
Next make sure you devote appropriate resources to maintaining your help desk response levels. Failure to adequately staff this key function can prevent users from doing their jobs which will be another source of stress and frustration.
Rotate assignments at some point during the transition so people move from legacy system duties to new implementation tasks, so they can get the training they need on the new system. Getting everyone up to speed on the new system will energize the entire team involved which helps morale.
A major source of frustration comes from not knowing what is happening. Change is difficult, so you need to spell out each step of the transition to make sure everyone knows the current status, challenges and expected outcomes.
How should I handle A/R wind down?
One of the more critical challenges in a system transition is properly managing the wind down of accounts receivable. Developing a strategy and plan for working down receivables before bringing up the new system avoids having to simultaneously manage two buckets of receivables.
The A/R work down strategy should focus on identifying all receivables, estimating their collectability, and determining how best to manage the collection activity. Going after overdue accounts can be handled internally or externally. It often makes sense to outsource the more difficult accounts since vendors typically charge a percentage of what they collect. That may be less expensive than adding additional in-house staffing. Handing off the more difficult accounts will free the internal team to focus on receivables that are easier to collect.
In addition to assigning A/R representatives who follow up on billing and work through rejections, denials, non-responses and appeals, you should also consider staffing other key positions during the wind down effort such as Payment Posters, Cash Control Representatives and Customer Service Representatives (CSR's). Making sure these positions are filled by capable individuals during the transition is critical.
What about data archiving and storage?
You need a plan to keep the legacy data available throughout the transition and beyond. This requires having a clear understanding of regulatory requirements and internal organizational mandates for record retention. You then need to decide whether to handle archiving and storage internally or outsource the project to a third party.
Transitions that result from mergers and acquisitions are often more complex when it comes to archiving. Organizations need to clarify which entity has the ultimate responsibility for the records before developing a storage strategy.
Whether you handle archiving and storage internally or externally, you need to document policies and procedures for retrieving archived patient information to enable clinicians to have access when they need it. Regardless of how archiving is handled, the key is making sure the data remains available for reporting and for any access that may be required once your old system is shut down.
Should I consider third party support?
Bringing in temporary third-party resources to help manage your legacy system during the transition is a proven way to help your overwhelmed staff during a time of significant change. Staff augmentation and contracting managed services can help fill support gaps while full time staff is involved in the migration to the new system.
Staff augmentation can also help reduce costs by helping to wind down your legacy system quickly and efficiently, eliminating the extra cost to run two systems longer. Third party resources can also help maintain the high level of support your users need which frees up your permanent staff to work on the new system implementation.
Asking staff to perform dual roles of learning the new system while supporting the existing one often results in a lack of success in both areas. Bringing in additional resources enables you to thoroughly train staff and users so they can take full advantage of the new system.
Bringing in interim help can provide benefits beyond just relieving staff and supporting your legacy system. A third-party organization can provide experienced, "hands-on" staff at the operational and management level who can work closely with your leadership to not only fill gaps but to help you manage the change process.
Temporary staff has the advantage of working with many other organizations in the industry and can bring in best practices and new ideas you might consider as you transition to your new system. They can provide guidance in helping you establish critical success factors including reporting relationships, recent or unexpected performance trends, changes in your organization, staff issues and vendor relationships.
What should I look for in a legacy support partner?
Not all legacy support resource organizations are created equal. Managing your legacy systems is a crucial component of the overall new system implementation plan, so it's critical that you choose the right support partner.
Make sure the partner you choose brings a cost-effective support model. You want an organization that offers a cooperative partnership with a flexible approach and a variety of cost effective staffing models. The plan should include a scalable staffing program that provides support with fewer people than simply a one to one ratio. The partner should also be continually monitoring the activity and requirements looking for opportunities to downsize their temporary resources as volumes dictate.
Your partner should have broad experience in multiple systems with healthcare expertise and have an effective communication process so that everyone at all levels of the organization are kept up to speed on what they are accomplishing. It is also important for anyone you bring in to have a proven methodology vetted through engagements with other healthcare organizations.
IT systems transitions are never easy but proper planning and due diligence when it comes to retiring your legacy systems can minimize challenges related to this key aspect of the project.
For for more information on planning a legacy system conversion, feel free to download our roadmap, How to Make Your Next IT Transition Successful: 6 Steps To Developing A Governance Plan and Strategy.