Because of the mandates of Meaningful Use and the Advancing Care Information (ACI) component of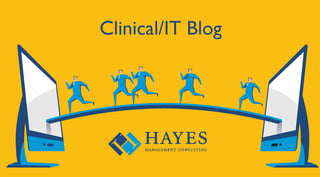 MACRA, EHR adoption has become near universal. Hospitals and physicians have become reliant on their systems to understand their patients and deliver proper care. Because your healthcare IT system has become so ingrained in your daily workflows, maintaining your systems is more critical than ever.
Here are seven things you should be doing to make sure your system is always up and running.
Create Task Checklists
Once a system has been in operation for a time, it's sometimes easy to neglect routine maintenance tasks. Other priorities pop up and issues that are not deemed crucial at the time fall to the bottom of the list and can often stay there. Although these tasks may seem mundane, failing to carry them out on a regular basis can lead to more serious system issues.
To avoid things from falling through the cracks, create weekly, monthly, bi-monthly, quarterly, semi-annual, and annual task lists outlining what needs to be done and make sure they are scheduled into the regular workload.
Examples of tasks that should be documented on checklists include medication lists updates, add/edit/delete information for providers and checking the systems of staff that may have left the organization. Establish a checklist for day-to-day security tasks that should be carried out to protect the integrity of your system.
Assign responsibilities
Creating lists is a good start but it will only be effective if you assign specific individuals who are responsible and accountable for carrying out each task. Organizations that have been the most successful in properly maintaining their IT infrastructure have established specific individuals or groups that monitor system management. Some have assigned a Head Optimizer to act as a liaison between the people that are maintaining the systems and the providers and staff. Others use staff super users- often nurses - to perform a similar function. Organizations that lack the resources for such in-house oversight often engage a third-party partner to come in and help monitor system management.
Establish a feedback loop to ensure the tasks you have identified are being performed. This can be in the form of reports to executives, regular review meetings - quarterly, semi-annually, or annually depending on the level of change going on in the organization. Another effective way to ensure ongoing task accountability is to set up a regular schedule of standing meetings. These can be helpful for discussing open action items, changes, and ongoing decision-making.
Upgrade promptly
Software providers are always tweaking their offering to either improve the feature set or correct bugs they've discovered. It's tempting to put off installing patches or upgrades since it is often an interruption to the staff's daily tasks. Failing to promptly act to install these upgrades, however, is a serious mistake.
These upgrades can improve the stability of the application, or enhance functionality to increase efficiency. Even more importantly, they can protect you from possible security breaches. Often hackers search for outdated software looking for security issues that haven't been fixed with patches. To ensure proper maintenance of your system, establish a process to install upgrades and patches within a certain specified period following receipt.
Keep documentation current
Maintaining up-to-date system documentation is essential. It's critical to capture all information related to your applications and establish an official repository for referral. A centralized documentation center allows new staff members to understand and follow processes and decisions. Relying on word of mouth is dangerous and often ineffective.
The core of a documentation plan should be a master user guide that includes checklists and all SOP's that you have established. These should be laid out in step-by-step format with screen shots to illustrate exactly what needs to be done. The user guide – and all other documentation – should be reviewed regularly for updates and changes and kept up to date.
Documentation should include any design decisions that have been made, long term plans, and a change control policy that ensures that all changes are tracked and communicated properly.
Conduct ongoing training
Lack of training can be a serious obstacle to system health. Staff can often forget knowledge acquired during the initial training period. This can lead to new staff members being instructed by peers who pass on tribal knowledge and shortcuts that may not be appropriate for proper system management.
Consider implementing a comprehensive training program for new hires and refresher sessions for existing staff. This ensures that everyone is working with the same processes and procedures. If training is to be done by peers, establish a focused train-the-trainer program to ensure that proper information is being passed on.
Communicate regularly
It's important to keep everyone informed about the status of your system. Some organizations have internal web sites for updates on immediate problems or to announce planned changes involving the system. A proactive approach includes emails or newsletter notifications distributed throughout the organization.
Also communicate aggressively when it comes to process, procedure, and form changes. When in electronic format, include a link that users can click on to learn more about the change, why it was made, and how to fill out the new form. Proactively getting out front eliminates confusion and concern surrounding these changes.
Get Help
Performing all the necessary tasks to maintain an efficient system can sometimes be difficult, especially when trying to do it with constrained internal resources. Time demands on healthcare professionals continue to grow and finding time for additional responsibilities is difficult.
That's why many organizations will engage a third party to help. An experienced partner can bring a vast wealth of industry experience from their other engagements and can simplify the process of system management. They can help with all elements of a comprehensive program including assessment, plan development, system monitoring, staff training and ongoing audits.
At a time when healthcare organizations are focused on improving patient care while managing costs, maintaining the health of your IT system is crucial. You need to ensure that your complex system is managed and monitored properly to derive the promised – and necessary - benefits.
If you'd like to take this information with you, download our roadmap, Maintaining the Health of Your IT System.