This is the second installment of a two-part blog mini-series where I share the tricks of the trade with detailed tips surrounding 7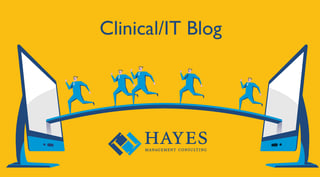 essential "train the trainer" categories. Missed the first half? No worries, you can check it out here: 7 Tips to Cultivate Your Trainer, Part 1 of 2.
Add some polish to your curriculum and put some thought into how you can make this experience enjoyable for your students. Ensure handouts are of nice quality and not bad photocopies. Print a few extra in case you have unexpected attendees. In your exercises and examples, use scenarios that make clinical sense. Otherwise, your students may get lost in the details and your intended focus is lost.
Offering students choices is another way to add value and enhance the learning experience. When I find wiggle-room in the agenda, I'll offer the class the opportunity to choose what they learn next. For example I'll ask "Do you want to cover phone notes or patient check out next?" or, "Do you want to take a break or get out of class early?" Giving them options makes them feel like they have some control.
For a fun twist during class, give out treats as a small gesture to revive the group. Using a theme for the class is another way to make it interesting. One of my week-long training courses was a boot-camp theme that included MRE's paper sacks containing military inspired treats, toy soldier name badges, and an American flag pinning ceremony at graduation. The smallest things can make the class fun and promote interaction. Awarding tickets for questions or participation then doing a raffle at the end of class with small prizes can go a long way for class participation.
As long as focus is not lost, put the fun back into learning. Break up the seriousness of the day with a fun slide show review of the content and work-appropriate shenanigans. One presentation that my class enjoyed was a gameshow-theme quiz. Students like it when they hear or get to share relevant stories in the field. Approaches such as these make the content and workflows meaningful.
Tip #6: Common Obstacles
In over a decade of training trainers, I've learned to share some strategies to keep pace of the agenda when class sizes are large. Prepare your trainer to overcome hurdles with language difficulties and also to keep on pace when students lack basic computer skills. Being patient while also respecting the students' experience and history goes a long way. New trainers are not often prepared to handle the disengagement of students during class. One tip I use is to pause and say "You'll want to write this down" and wait to move on as they write down each step. I'll recap the steps during regular intervals in case a student forgot to take notes. When students are given the opportunity to follow along on the computer, you will have slow navigators. Your trainer must be prepared with keeping the class on pace and accommodate learners of all skill levels.
More obstacles to prepare your trainer include methods to make the content relevant when training users from multi-specialties or various roles at the same time. A nurse, a front office registrar, and an office manager may all be interested in learning only the content that applies to their role. As the trainer, you know your agenda is relevant to all of them but you must find a way to engage every student. Holding training away from the office and in an isolated training room is ideal for students to avoid disruptions from other staff.
Another challenge is managing a class when side-bar conversations take place. Sometimes, the conversation is relevant, while other times it is not at all and is causing a disruption. One technique is to stop and ask the group if they have a question since the class may also be wondering about the same thing. If it is relevant, allow for an open discussion to engage the class. If the conversation goes off topic, put it on a parking lot to come back to later.
Not everyone comes to class, sits in the front row, and enthusiastically takes notes to learn. There will be times when your trainer must deal with negativity, disinterest, or shutting down. In the past, it has been helpful to involve negative users and make them a part of finding solutions. My experience has taught me that negative people are also passionate about what they do. When they are part of the solution, they become a powerful advisor and often get buy-in from their peers when a solution is found.
Tip #7: Mentoring, Etiquette, Work Ethic and Growth
One of the best approaches I've experienced is allowing your trainer the opportunity to shadow a mentor and be shadowed. This dynamic provides a coaching environment where your trainer can gain confidence. A mentor can provide valuable feedback for how to handle questions that come up in class while also giving the trainer room to learn and grow independently. Your trainer may learn from the mentor and also be encouraged to get involved outside of the classroom. For example, a trainer may gain value by joining an industry association or club or through networking via an online forum. Remind the trainer that when networking outside of the classroom, you still represent your organization and yourself. Project a nice appearance to gain credibility while being yourself and still a professional.
An effective trainer is more than someone who shows up to communicate material. They must take initiative and advantage of their own learning opportunities to grow. Putting the content into context, it is helpful for a trainer to visit practices onsite, speak to support about common support calls, and work with subject matter experts about workflow details. All of this information can be brought back to the classroom to enhance the delivery for the next class.
For leadership, set realistic goals and expectations for your new trainer. Base your expectations on the trainer's prior experience and give them time to not only learn the material, but to learn to train it. Your new trainer is faced with double duty. As the trainer, you are not expected to know every answer. Finding out answers to questions is a great way to learn and will take time.
As a trainer, use test scores to reflect on your training and improve the next time. Offer surveys to collect essential feedback for content. Expect some negative feedback but use it as an opportunity to improve your delivery and style. Along those lines, learn to identify a student who is clearly not absorbing the material. Communicate with managers or leadership when needed so they can best address the situation. As a trainer, you are not tasked with qualifying candidates, for hiring, or firing. But you do have a responsibility to ensure a productive and positive learning experience.
On a personal note, understand that all students may not like you. Be confident in the fact that training is not about being liked, it is about facilitating learning and ensuring each student is provided the opportunity to learn skills needed to perform their job. Alternatively, it is important to recognize that not every personality makes a good trainer. A trainer must have the skills needed to adapt to the class energy and environment. Trainers are sometimes placed in this role because they are good at using the software. Proficient software skills does not mean a person is equipped to train. It takes a specific personality to deliver the content and instruct users successfully.
The next piece of advice is to not overload your trainer. Give your trainer a break when possible by allowing them to work from home, letting them go early, or give them a change of scenery by shifting to a support role for a day. Training is mentally draining. In return, trainers must learn their bandwidth limits. It is in our nature to want to help but instructors must learn their thresholds and speak up when they are overwhelmed. Failure to communicate will lead to burnout or low quality work.
Success in motion:
A recent project in Austin, Texas inspired me to share my collection of tips and tricks. While providing interim training for new employees for a large organization, I met an energetic young lady who was preparing to take over the instructor role. As a new employee, she was tasked with learning a new software and how to train the workflows simultaneously. She quickly shadowed and taught the class while being shadowed. We met online between training weeks to iron out any details and refine the training material. This approach gave her independence with a safety net.
Above learning the material, she took a genuine interest in being the best instructor she could be. Because of this, I wanted to nurture her enthusiasm with some "extra" mentoring. Working together we evaluated the current curriculum and revamped the material. The new trainer worked on her presentation techniques and mastered the software in record time. Towards the end of my engagement, this young professional was off and running in record time due to her work ethic, technical ability, professional attitude and desire to learn.
As you evaluate your own training program, consider all of the elements to deliver a truly impactful learning experience that will translate into a return in your investment in your employees. Knowledge is truly a gift. Why not wrap it up with a nice bow?
For more information on training and the benefits you can cultivate, check out our roadmap, Frontend to Backend Training: Why It Drives Revenue Cycle Health.