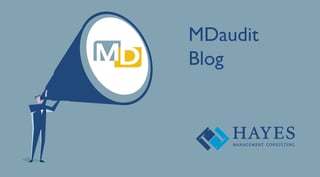 In last week's post, Lisa English described the growing importance of healthcare analytics in dealing with large-scale initiatives like population health. She also outlined the important role analytics can play in solving the day-to-day problems of monitoring risk areas, supporting continuous risk assessment, and complementing limited compliance resources that organizations face every day.
In spite of the increased reliance on analytics, Lisa stressed that there is still much we need to learn. She outlined four things about analytics that might surprise you. Here are four more considerations surrounding analytics that you may not have realized.
Look outside your organization
Looking internally at your own data is powerful. You can use your own organization's data to assess trends, compare providers, review denials, sample for audits, all of which are important. But you have to careful about not getting tunnel vision in your data analysis.
For many business metrics, the ability to look outside the organization and compare to peers is invaluable. Broadening your data pool allows you to compare yourself to best practice institutions so you can set the bar appropriately to encourage continuous improvement. This practice is well established in the revenue cycle domain (days in A/R, % of A/R > 90 days, etc.).
For compliance billing risk, mining internal data is likely not enough. It takes a great deal of work by expert staff with clinical and billing knowledge to review a set of claims against the medical records to determine if they were billed correctly. It is not possible to catch all billing issues via random sampling, even with aggressive audit schedules.
That's where including external data will help. Normative data from a cohort that reasonably compares to your organization can be powerful. This allows you to hone in on areas where you are an outlier, which will help you direct your scarce and valuable expert resources to the areas where they will have the most impact.
You don't have to boil the ocean
Perhaps you don't have data scientists at your disposal or the ability to apply statistical model ensembles to massive amounts of social and business data to discern trends, data dependencies, and outliers. If so, you are not alone.
Your best alternative is to work on areas for which you have data and that pose the greatest risk to your organization. Start small, and as you get more comfortable and familiar with the data, incrementally implement new focus areas. In the end, that's how you'll attain the best results.
Small data can yield big results
Start with what you know. Compiling a list of the current high risk areas is a good place for compliance professionals to start. If your organization conducts an annual risk assessment to prioritize audit focus for the upcoming year, start here and add to the list based on the OIG work plan, RAC focus areas, and recent judgements against other healthcare organizations. In other domains, focus on your key business drivers.
Next, inventory what data you have or can reasonably acquire. Most organizations have access to their historical billing and remit files. Medicare is increasingly providing data to the public, which can be a great source for national data. (But keep in mind the target population will not be representative of the larger population of healthcare consumers).
Nothing beats expert insights: leverage your network
Measuring what you know is important, but how can you keep up with what you don't know? Where do you find the time to research every one of these areas and fine tune to get actionable results? That's where leveraging your professional network can be invaluable.
Don't be afraid to reach out to your network of peers, especially those at other organizations in different areas of the country. We find that small groups of seasoned compliance professionals working together can work magic. This can also help you vet what you're seeing with others in the field. Leveraging a set of curated risk areas which have already been run through iterative fine-tuning allows you to benefit from the wisdom of others. It is not a trivial task to dive into data and weed out the insignificant while highlighting the information you need to make the learnings actionable.
Consult with your network of peers to keep up with the myriad areas of concern facing all of you and that are nearly impossible to track on your own. Statistics are one thing but it takes the collective knowledge, intelligence, and interpretation of the larger industry group as a whole to get the most out of an analytics effort. In addition, you will likely enjoy many other benefits, both professionally and personally, from this regular interaction.
The bottom line
Even though there is still much to learn about the use of analytics in healthcare, beginning the journey is an especially prudent approach for most audit and compliance organizations. Demands have grown but resources remain scarce and using technology to mine our data to help solve problems can significantly ease the burden.
The bottom line: start with what you've got, measure what you can, and you'll likely discover things you didn't know before. That's the power of analytics and is the only true road to process improvement and mitigating risk in your organization. In the final analysis, that's not very surprising at all.
For more information on how you can leverage your organization's data for risk mitigation, download our infographic Mitigating Your Organizational Risk with Data and Audit Automation.