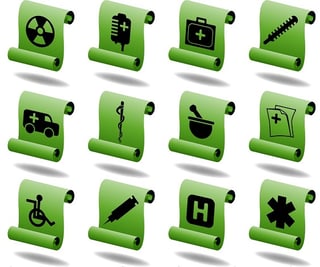 Most of us, myself included, just simply can't remember everything. We might think we can, but in reality, things inevitably slip our busy, overactive minds. Most of the healthcare "basics" are the same; the how, the when, and the why. Problem is that the "where" and the "who" always seem to be changing. We are constantly being asked to adjust to change. Government regulations are continually evolving. System upgrades, user turnover, system migrations continue. The only constant is change and there are no signs of it stopping.
With all that said, I have been and always will be a firm believer in keeping things – for lack of a better word – documented. Documentation can come in many forms. It can be something as simple as a department contact list or more complex like a workflow diagram. Either way, the written form can come in very handy for a whole host of reasons.
There are a few best practices for documentation that are crucial to healthcare in particular.
Contact lists
Change control.
Storage considerations
The all-important contact list
By this I mean a simple departmental list of names, numbers, department, and organizational roles. Most people who have been at an organization long enough are going to know who to reach out for specific issues. For example, you may need compliance staff to review a denial from an insurance company to evaluate if the physician used the correct codes on a claim. This might be a no brainer for your coworker who has been with the company for five years, but a newer employee is not going to know or remember who to ask for help.
This might be the kind of resource document that could be passed out to an employee at orientation or during training so he or she can have it handy at all times. While the list is a simple tool, it can be effective and certainly a time saver. Keeping the contact list current is important so it's good practice to review monthly and updates sent to all staff with instructions to discard the former contact list.
Managing change control
Let's move on to change control which covers. This can apply anytime your organization or department adds or alters an existing process, workflow or technology. Your organization will determine how changes are managed.
One of the most common methods for change control (and the one that I recommend) is to manage it through IT help desk tickets. For example, say one of your users would like to create a new claim edit because she noticed a spike in denials for a particular CPT combination missing a modifier. She creates a ticket providing an example of the denial and identifies what she wants to accomplish. This provides the person responsible for doing the work enough information to get started. It is always a good idea to consult with that user's supervisor or manager to confirm what is going on and get approval to create the edit. Following this protocol also informs the supervisor or manager of what change has been requested and gives him or her a chance to dig a little deeper into the problem. Once it has been approved, you can begin your work. You should make sure to document your steps along the way, including any testing you did, what scenarios you used to test, what parts of the system you modified, etc. I also recommend that you include screen prints in your documentation. You want to make sure you have enough material to fall back on in case you need to reference this in the future. This documentation could prove useful for system audits. It shows the reason for what you have done and that you sought approval to do it. This does not necessarily need to be shared with everyone, but keep it in a place that can be accessed if necessary, like a file cabinet.
Why storage is so crucial
This brings me to my next point: where should you store your documentation? This will depend on what you are documenting. Most organizations have a common shared drive and this would be the easiest place to keep things. Shared drives are accessible to everyone, easy to update and add content to. Another good option is a SharePoint (or a similar internet/cloud based product). I have seen an uptick in the usage of cloud based shared drives by healthcare organizations. This works much like a shared drive; you can add and remove documents to and from it, create content areas (i.e. an area for workflows, a "cheat sheet" section) and customize it to fit your organization's needs.
A printed binder is always an option, but if you plan on distributing one to everyone, it can difficult to maintain. If this the option you want to pursue; think about a central binder as opposed to one for each staff member. Again, not everything is meant to be shared across the board so a good old fashioned file cabinet is a good place to store certain types of documentation that might be needed for audit purposes versus a user's needs.
Without a doubt, documenting requires time and patience. When done properly and consistently maintained, you'll make life a little easier for not only yourself but also the entire organization. It may seem like a thankless job, but you will be appreciated for keeping things in a neat and orderly fashion. I can't tell you how many times it brought a smile to my face when someone has asked me "Do you have the documentation somewhere?" and I could confidently point a finger at exactly where it is. By no means am I perfect about documenting, but I have learned to become more diligent as time goes on. By establishing a consistent methodology and routine for capturing and storing documentation, you will be well on your way to helping your organization continue to navigate the all too constant change.