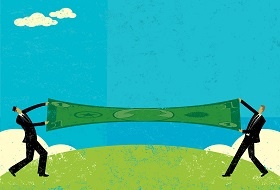 Budgeting is arguably one of the most crucial parts of any electronic health record (EHR) implementation, whether it is your first go-live or you are moving onto a new system. The pressure to make the process go as smoothly as possible is undeniable. This includes being on budget and having the implementation be on time. Here are some proven tips around budget development that can save you time, money, and the headache of correcting costly mistakes later in the of EHR implementation process.
Implementation build: Think about asking the question of what the cost is to build out each of the application modules before go live. Consider the fact that some vendors require extensive work to construct and compile the final product. Customization is always more expensive. Estimating build costs requires a great deal of skill and foresight and is vendor-specific.
Physician champion income support: Physicians will be taking time away from their practices to act as champions and advisors on your project. Consider what this means in terms of compensation - both financial and time.
Production support: Supporting an EHR is not the same as supporting other systems. Unless you're replacing a modern EHR with another one, you will probably have to add staff, extended support hours and perhaps some automated tools (e.g., knowledge management). Calculate the need and plan accordingly.
Physician go-live revenue protection: There is a ramp-up period where physician/provider productivity will slow down; this is especially true for physician practice EHR systems. Depending on the physician compensation model, you may need to make provisions to keep your physicians "whole" during the ramp-up period.
Interfaces: This is a topic that requires a great deal of research, thought and planning. If you're converting from an existing system, what interfaces exist today? What do you need for the future? Remember to include hyperlinks to PACS and other systems, file transfers, and electronic submissions to regulatory agencies.
Data conversion/abstraction: What data is going to be converted from existing databases and EHRs? How much of that data can be electronically converted? For physician practice systems, how much data will need to be abstracted and input into the EHR to accommodate the first patient visit? Conversion and abstraction can be very costly and time-consuming activities; don't underestimate the associated planning time and execution costs.
Server/infrastructure hardware: This includes decisions about virtualization, to host or not to host, etc. While relatively straightforward, it is worthy of consideration and planning.
Software licenses: Read the RFP/RFI or sample contract(s). Vendor estimates may not include all the necessary elements (e.g., e-prescribing components, patient eligibility checking, etc.). Make sure that all the software elements are taken into account, including third-party applications.
PC equipment: PC also means desktops, laptops, tablets, PDAs, smartphones, etc. Don't forget provisioning costs, line drops, software and licensing for each and every device. Printers, scanners, mounting brackets, chargers, extra batteries – the costs add up. And if your users need to move to another location in the middle of the project, consider purchasing duplicates.
Network/communications: Depending on the condition of your existing network, this category can be relatively easy or difficult to estimate. Regardless, plan for the future growth of the network and don't forget security and HIPAA.
Disaster/downtime processing: Many vendors offer automated solutions that provide downtime capabilities in the event that the system incurs an unscheduled outage. These solutions can include hardware and software to provide downtime reporting capabilities from a recent checkpoint.
Contingency: 10% of the project budget is a good benchmark. It is important to include a healthy contingency allocation. Like any project – even household projects - there will always be unforeseen events or expenses.
EHR budget development is critical and can be complicated; however, with a comprehensive review, a detailed analysis and plan can ensure that your implementation goes live on budget, on time, and without too many headaches.