You've been struggling with the need to improve your bottom line while reducing organizational costs. New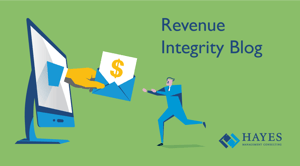 financial models, increased cost shifts to patients and continued merger and acquisition activity are leading to an increased focus on your organization's overall financial health. Up until now, you've likely relied on revenue cycle management (RCM) which has served you well, but you now recognize that RCM doesn't go far enough. You need something more, so you've decided to implement a more holistic revenue integrity program.
Revenue Integrity – getting paid for everything you do, and keeping it – takes a broader view of the organization's revenue stream. A revenue integrity program evaluates many of the same people, processes and technology as RCM, but goes a step further by understanding how these various disparate processes can be connected to optimize the entire revenue cycle.
Making the decision to move to a revenue integrity program is important, but to effectively implement the program, you'll need to take a series of important steps including:
Setting up your revenue integrity organizational structure
Developing a project timeline
Deciding on short- and long-term goals
Documenting functions within your program
Finding and developing talent to carry out the program
Establishing key performance indicators (KPIs)
Making your way through that list takes time and resources – something that may be in short supply in your organization. You can't let that obstacle stand in your way. Many organizations overcome resource constraints by engaging a revenue integrity partner – someone who can come in and help direct the implementation effort.
There are many organizations that claim to be revenue integrity experts, and while they may be reputable, they are not all created equal. You must conduct the proper due diligence when choosing your revenue integrity partner. Here are five key factors to consider when assessing and choosing who will help you with this critical initiative.
Clinical experience
Select someone who has extensive hands-on experience in the financial workings of healthcare organizations. This real-world background in clinical operations and finance can help ensure that your processes and systems are effectively safeguarding the integrity of each component of your revenue stream.
Your partner should have broad expertise with multiple healthcare IT systems, which will enable them to translate and measure workflows and processes more effectively.
Advanced technology
The partner you select should provide effective technology that not only identifies issues, but also enables you to develop a comprehensive corrective action plan to remedy them. The platform should be cloud-based, closed-loop and capable of supporting all three revenue streams – front end patient engagement, mid-stream revenue recognition and back office billing and collection.
The technology should provide continuous monitoring to help you drive ongoing performance improvement of billing, coding and collection behavior. It should also enable anomaly detection that helps minimize documentation and coding errors, allowing you to retain more of your revenue.
Action versus analysis
Many organizations will begin their engagement with an analysis of your billing data. This transactional approach relates well with the underlying data of billing systems, and will likely result in a comprehensive analysis report that points you in the direction of issues that require your attention.
However, you need a partner that takes this analysis further and has a long-standing background in corrective action as well as a proven process for helping clinicians improve their coding and documentation. That approach is different and more effective in getting to root causes and driving corrective actions that can lead to a higher level of revenue integrity.
Proven ROI
When evaluating potential partners, review their ability to demonstrate a proven ROI in prior engagements. They should be able share their past experiences with metrics surrounding actual bottom-line improvements and specific dollar amounts saved.
Effective communication
The partner you choose will be working closely with your teams on a critical initiative in the organization. It's important to have a partner that is able to communicate effectively throughout the process. The communication plan should include weekly updates with detailed metrics that illustrate the progress that is being made.
A revenue integrity program involves a serious commitment of time and resources, so you want a partner who can help you provide key information to executives – and the board – that demonstrates the significant effort is yielding results. Good communication throughout the organization is the best way to accomplish that goal.
You are already looking at better ways to leverage resources and minimize risks in your organization. The budget strain you face is not likely to ease any time soon. Leveraging the increased power of analytics to glean relevant data and act on it appropriately is key to an effective revenue integrity program.
You don't have to go it alone. Selecting the right partner who can focus on developing substantive root cause analysis and applying corrective actions – rather than simply transactional fixes – can be the most important decision you make when implementing your revenue integrity program. Choose wisely.
For more information about how to choose the best strategic partner, download our white paper, Strategic Selection Strategies: How to Choose a Vendor that Syncs with Your Organization.