By Henry (Hank) Bernstein, DO, MHCM, FAAP, Professor of Pediatrics, Hofstra Northwell School of Medicine and Shannon Cleary, BA, Research Assistant, Cohen Children's Medical Center of NY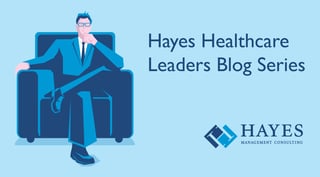 It is well known that a key objective in the evolving healthcare landscape is improving outcomes. To meet that goal, many organizations are embracing the tenets of the Institute for Healthcare Improvement (IHI) Triple Aim – improving the health of populations, enhancing the patient experience, and reducing the cost of care.
Achieving success in these tenets requires implementing practice improvement. Traditionally, individual members of clinical teams haven't been eager to participate in practice improvement programs, largely due to heavy clinical and administrative workloads. However, to accomplish meaningful, productive change, providers on the frontline must be involved in the development and implementation of any practice improvement initiative.
In 2015, a group of colleagues and I proposed an evidence-informed framework that would encourage providers to break through individual silos within the clinical team and get involved in improving practices in clinical settings.
Leveraging our framework to increase engagement provides a great opportunity for healthcare leaders to pay close attention to the performance of the frontline provider - one of the most valued stakeholders in healthcare. To enhance engagement, we need to educate providers to think in terms of teams, not individuals.
Simply telling providers to buy into what needs to be done won't be effective. Instead, we need to embed a continuous improvement strategy into practice that allows care providers to express their concerns and unleash their creativity to develop and test new practices. We must make providers feel valued so they will take ownership of and drive real change. We want our frontline providers to create learning environments rather than to respond to edicts imposed from on high. Better engagement is the key to releasing the power of teamwork.
After extensive research and discussion, we discovered these four key strategies to enhance frontline engagement in continuous improvement.
Cultural
These are strategies embedded in the culture and context of organizations. You can help develop these strategies by communicating that practice improvement is an integral part of daily work. Encourage contributions to practice improvement by establishing suggestion programs and daily work group meetings to collect clinicians' ideas for improvement, then reward these contributions to ensure further participation. Provide opportunities for frontline workers to informally interact and exchange ideas by designing physical meeting areas close to the workplace.
Batalden and Davidoff, two leaders in the healthcare improvement effort have said that "everyone in healthcare really has two jobs when they come to work every day: to do their work and to improve it."[1]
Group Education
Traditional learning environments – trainers presenting in a group setting – may transmit information, but sometimes struggle to actually impact change. Generating effective ideas relies on better engaging those who need to learn.
Roundtable interactive sessions held near the workplace have been successful in encouraging busy providers to participate. During these discussions, providers are encouraged to share stories of practice experience and outline a vision for an improved environment. Rather than having passive attendees, this type of forum with socially interdependent participants cultivates engagement and generates feelings of ownership in the change process. These discussions are perfect settings to introduce evidence from research, patient feedback and internal audits that can help define the present situation and outline an improved future state.
Interactivity
The key to engagement is encouraging providers to interact so they can begin thinking like a group instead of as individuals. Encourage dialogue to introduce new learnings and foster understanding. Ongoing discussion is crucial to socially constructing a learning-in-practice process. It also leads to greater trust, honest exploration of key concepts and challenges, shared understanding, and innovative problem solving that raises the collective knowledge of the group. Once this interactivity becomes everyday practice, cycles of discussion, action and evaluation can improve processes through continuous change.
Creating this level of dialogue helps avoid dreaded negativity that tends to shoot down new ideas before they can become fully formed. Interactivity can counter this demotivating behavior by introducing different points of view and competencies. This interchange of viewpoints allows the group to accept the possibility that there may be opportunities for action to improve the status quo. Studies show that workers engaged in structured dialogue develop a "collective mind about practice issues that can lead to measurably enhanced relationships between practitioners in clinical settings."[2] The end result: practice improvement and better patient care outcomes.
Social Learning
Open and honest interaction and dialogue within a group are not always easy. To freely discuss points of view, emotions and motivations regarding practice experience requires a safe, understanding environment in which participants can trust each other.
To build these desired social settings, provide convenient meeting spaces where staff can meet casually or informally. You must also lead narrative-based discussions and conversations that will promote creative ideas for practice improvement.
Even when you provide an ideal environment, some participants may still be hesitant to share their thoughts and feelings in a face-to-face forum. For those individuals, social media can provide an alternative vehicle to express their opinions in a form of virtual interaction.
Consider implementing these strategies at every level of the healthcare industry from boardrooms to exam rooms. Creating an atmosphere of enhanced engagement in the healthcare industry is crucial. Everyone needs to be encouraged to speak up and function as a team if we hope to enact real change. Ensuring the team mentality makes sure that everyone is involved in the care and succeeds or fails together. While the definition of "outcome" may be hard to nail down, it is important for each organization to determine together what they consider a "good outcome" and to realize that it can evolve.
Implementing these four strategies enables everyone to be engaged. They create sustainable energy and help staff begin to accept the opportunity and responsibility to be creative. Groups can define how things are done now, reflect on them, suggest how they should be done in the future, and then decide on what will be done in their specific setting. The themes of this dynamic social process, which we call "practice talk," are highlighted in the figure below: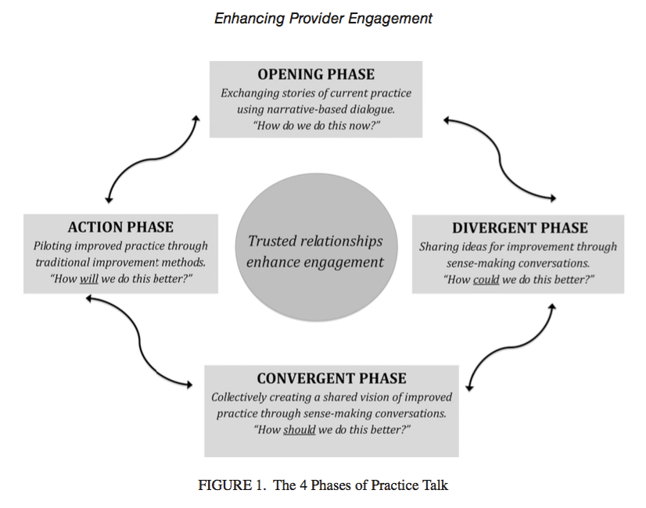 Although these strategies focused on providers in practice, they apply to healthcare leaders at all levels and in all aspects of the organization. They are about ways to get everyone fully engaged no matter where they are in the hierarchy of an organization. This is a process that is well established outside of the healthcare industry in organizations such as Toyota and Cisco. It's time to apply those same principles throughout healthcare so we can drive improvements and ensure better patient outcomes with more engaged providers.
For further information on how to improve patient care outcomes in today's healthcare environment, download our eBook, Thriving During Disruptive Change, The Power of Clinical Optimization.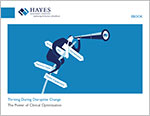 [1] What is "quality improvement" and how can it transform healthcare? By P. Batalden and F Davidoff, Quality Safe Health Care, 2007
[2] Enhancing Provider Engagement in Practice Improvement: A Conceptual Framework, by Donald W. Hess, MD, MPH; Virginia A. Reed, PhD, MPH; Mary Turco, EdD; John T. Parboosingh, MBCHB; Henry H. Bernstein, DO, MHCM, Journal of Continuing Education in the Health Professions, 2015.