Every organization, at one time or another, will require staff augmentation. The reasons are common and include maternity leaves,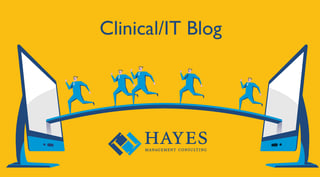 sick leaves and extended vacations. These absences while typical can cause disruption as management all too often does not have employees with bandwidth to cover their coworkers' responsibilities and their own.
Many times, external resources are brought in on a temporary basis to help keep the wheels turning with minimal bumps in the road. This is necessary to ensure that all duties are covered and all deadlines are met.
Unfortunately, what may seem like simple staff augmentation requires a great deal of forethought. Due to the security complexities in today's healthcare environment, a cushion period is often necessary.
It is always a good practice for an organization to think about possible stumbling blocks that may lead to a break in the workflow process before the staff augmentation begins. Here are four critical areas to examine as you assess staff augmentation for your organization.
Onboarding considerations: How long is the standard timeframe for your organization's onboarding process? New employees are typically greeted with an onslaught of forms before they are able to access the systems that allow them to work. Once those forms are completed it is important think about the standard turnaround time. In some cases it may takes days, not hours, before employees receive their login information. This in turn may cause delays within workflows and you will often see productivity suffer. Make sure to take onboarding into consideration when you plan for additional staff, even temporary personnel.
Security streamlining: Who will own maintaining your organization's security? A good way to ensure a smooth transition during the onboarding process is to consider dedicating a resource to assigning the individual security access to the systems, applications, and internal document repositories. This may seem like a standard process but it has been my experience that in order to grant a new employee access to any healthcare system, specific protocols must be followed. As we all know, most human resource departments have criteria which they need to follow to grant access. Timely background checks, verifying employment history, and obtaining additional sign off are just a few of the challenges that those folks face.
Website access: Does the new employee need to access payer's website? If so, ensuring a smooth integration into the team can become an even longer process. Recently, I experienced this first hand: the process began with completing the registration form. After several days I was required to print out the application and have it notarized. I mailed it back as quickly as possible. Several more days passed and then I received an email that the application was in process. A few more days passed and I then received an email communication that my login information was being sent to me via US mail. Once received, I was excited to login and begin working. However I was informed that this process only gave me access to the system. I now needed to reach out to the organization's internal application manager so that I could be granted access to the modules that I needed. You guessed it - a couple more days passed before I was granted the specific application access that I needed. The final kicker was that after this long waiting period I received a system generated email stating the process was complete and I would have access…after another 48 hours. While this may be an exceptionally long process compared to most, it is a good illustration that delays do exist and that management should be thinking of them at the initialization of the process.
Document sharing access: What about internal folders and SharePoint sites? If the temporary and/or new staff are required to distribute or share documents internally, do they have the rights to access and store documents in the places where other staff members can access them? Many organizations have security in place to only allow staff members to access the system folders that are relevant to their job functions. The same is true for SharePoint folders or other internal systems. It is important to remember to secure access prior to the employee's start date because this may be able to be streamlined in your organization.
There is no doubt that healthcare security is a crucial part of maintaining patient confidentiality by safeguarding our systems. But, as they say, time is money and considering your organization's processes and systems well ahead of time can buy you a bit of both.
For more information about maintaining a smooth organizational workflow during staff transitions, feel free to download our roadmap, Clinical Optimization: How to know When You Need an Independent Expert to be Successful.