With today's ever-increasing squeeze on healthcare organizations' bottom lines, the quality and performance of a billing department is vital to its operating margin. What's more, the billing department's clean claim rate is a critical factor to help achieve budgeted operating margins.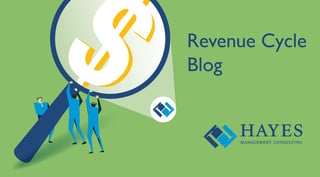 A clean claim is a claim that was accurately processed and reimbursed the first time it was submitted to the payer, without error, rejection, and manual intervention. Industry best practice for first pass clean claim rate is 90% or above which can be understandably difficult considering how many claims an organization processes everyday but not impossible if the billing department is optimized.
Here are some areas of your billing department you should examine when wanting to improve your organization's clean claim rate. These will not only make your processes more efficient but also ensure your organization hits the best practice percentages that ultimately help your bottom line.
Ownership
Because the clean claim rate is a vital revenue cycle indicator, it should be assigned to one person as their principal responsibility. This person should track, trend, report, communicate and - most importantly - facilitate exceeding clean claim rate expectations. Having a designated staff member to focus only on cleaning claims relieves the billing manager or billing supervisor of assuming this entire responsibility because their other obligations may not allow the time and attention needed to appropriately address the claims individually. Have the designated employee create and lead a task force to investigate, address, and resolve issues that delay a claim from being submitted properly. Having one person manage this piece will facilitate communication and efficiency within the department.
Claims Management Software
Errors that prevent the claim from transmitting to the payers need to be managed daily. The errors should be sorted by primary payer responsibility, by descending charges, and by descending claim count. This will prioritize the work effort required to correct the errors resulting in increasing the clean claim rate and cash collections.
To prevent errors, identify and solve the root cause by building, testing, and implementing fixes in the patient accounting system.
Logic (bridge routines) can also be programmed in the claims management software to automate the correction of the errors. If a bridge routine is used payer policy updates need to be reviewed to comply with any changes. Payer changes are received via electronic or hardcopy updates. A designee in the Revenue Cycle department should be responsible to review the updates timely and initiate the change control process if applicable.
A common mistake made in calculating clean claim rates is overlooking payer rejections. Many clean claim calculations are exclusively transmission (export) to submission (import) formulas, but a submitted claim can still be a payer rejection resulting in additional re-work and delays in payment. Therefore in addition to managing the claims software errors, the payer rejections must also be managed.
Education and Training
Because system, insurance, and industry changes are continuous, it is imperative to keep an updated comprehensive training and education program. This is the best place to disseminate standard work, fold in current organizational policies and educate on industry best practices. Specific tools you can use include screen shots, how-to videos, and a skills matrix.
A skills matrix is a tool that rates and scores each employee on their knowledge of and ability to execute their job related tasks. A skills matrix helps establish an assessment of an employee's capabilities, identify where there may be gaps or weaknesses, and identify where training is needed.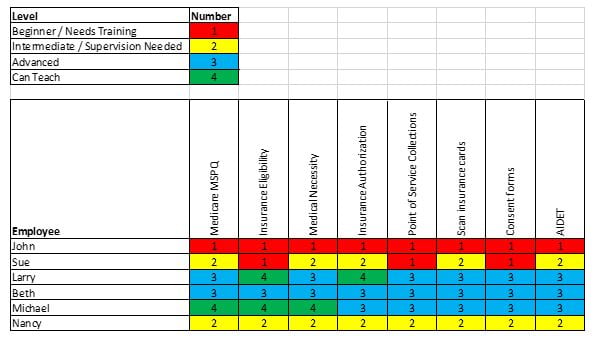 To develop a skills matrix, measure and audit an employee's performance on a daily basis so you can analyze trends. Questions to ask include, Is standard work being followed? What are the problems? Are the problems related to system issues, training, or something else? Take prompt action to prevent the problem from recurring or schedule additional training or corrective action if needed. Don't forget to celebrate the success of achieving and exceeding clean claim rate goals, too!
Technology
In today's technology dominated world, there are many tech-enabled products available that can help prevent claim rejections and consequently lost revenue. Most organizations contract with vendors that aide them with quality assurance, eligibility, and medical necessity. Once the technology is implemented, however, you'll want to be diligent about training your staff so the technology can be optimized and the organization gets the most out of its capabilities. Including why the technology was implemented and its effect on staff productivity is always a good idea so they understand the contribution to operating margins.
Reporting Fatigue
Reports are invaluable tools but there is a very real issue of over reporting which becomes ineffective. Sometimes the quickest and simplest resolution to an issue is simply asking your billing staff what they know about it. As your Subject Matter Experts that are working with these types of errors every day, they will most likely have historical experience, insights, and suggestions as to how to resolve the problems.
The Result
Getting a clean claim to the payer significantly increases the percentage of claims paid at first pass without manual intervention and rework which saves your organization time, money, and resources. Increasing the clean claim will also increase patient satisfaction and prevent the potential loss of their future service and revenue.
Additionally, having a billing department that is thoroughly optimized will allow providers to reallocate billing staff to other revenue cycle functions like financial clearance, revenue integrity, denial management, and managed care payment discrepancies that will help increase net revenue performance.
Tracking, managing, and improving the clean claim rate is challenging and will take time but it is unquestionably vital to an organization's bottom line. It will improve efficiencies, key performance indicators, and most importantly the operating margin.
For more information on preventing denials and increasing your clean claim rate, feel free to download our roadmap, 4 Key Steps to Preventing Denials.