The healthcare industry continues to be in flux. The defeat of the Republican's plan to repeal and replace the Affordable Care Act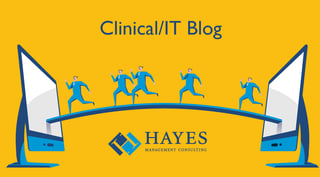 ensures that the status quo will continue. However, that status quo means a continuation of revenue reduction and pressure on margins. Meanwhile, the implementation of MACRA, the march to value-based care and a shift to alternative payment methods goes on.
All these factors ensure that revenue cycle optimization is more important than ever and organizations will continue to focus on plugging leaks, streamlining processes and implementing automations. Some of the biggest challenges include billing and collections errors, lack of claims process monitoring and insufficient staff training.
Epic's end-to-end solution continues to attract new clients and is one of the fastest growing EHR applications in the industry. The comprehensive nature of the Epic solution makes it an attractive option, but the breadth of the platform makes it more critical that you ensure it is integrated properly in your organization. There are dozens of modules in the Epic offering, and they can sometimes be isolated in separate siloes. Without an effective integration plan, you may not see the results you need.
Focusing on these four key areas will help ensure you get the full benefits of your Epic solution.
Workqueues
The primary work drivers in the Epic system are workqueues. Configuring the comprehensive Epic system platform is a huge undertaking since its many modules cover a wide range of patient access and revenue cycle areas. The key to smooth and effective operation of your Epic system is making sure you set up your workqueues properly.
Epic recommends the use of a series of workqueues during your implementation such as charger router, charge review, retro, patient, account, claim edit and many others. For Epic to work effectively, rules need to be set up to make sure these various workqueues are operating together. When they don't, issues arise that can result in improper billing and extra manual intervention to ensure an effective revenue cycle.
Many problems occur in the charge review workqueue. For example, charges don't hit appropriate workqueues due to the grouping of charges into one charge session. This can be caused by an incorrect rule written involving charge sources or the charge origination point. Epic delivers certain standard rules but it provides a flexible, property tree of every item in a charge line into which you can bring a charge.
You can create your own rules but sometimes this can result in charge sessions going to incorrect buckets or workqueues. For example, five lines on one charge session can be split with one line going to an incorrect workqueue and the other four going to the correct workqueue. This scenario could then delay one of these sessions longer than the other being released from charge review resulting in the claim being produced without all five lines. If the rule had been written properly, all five lines would have stayed together in the same charge session and appropriate rules would have applied.
Another common issue in the charge review workqueues is charge correction and retro adjudication charge sessions. These charge sessions may require specific security points for your users or additional training to understand why they are in the charge review workqueues. Registration updates trigger charges back into the charge review workqueue and claim edit workqueue without alerting the registration user of what is about to happen to those charges. This can cause an increased volume in both charge review and claim edit without anyone understanding the root cause. Educating the registration, charge review and claim staff on the retro adjudication process so incorrect retro rules can be corrected early in the process is key to keeping the volume under control.
Rules
Streamlining Epic so it captures all charges correctly requires setting up proper rules and processes. Appropriately written rules are vital to an effective workflow and a streamlined revenue cycle process. You should constantly be evaluating your rules to ensure they are driving the results you want. In most cases this involves looking to make sure claims are hitting the right workqueues throughout the process.
It's important to review reports of groups of claims and charges to see where they are flowing through the system. Providers can change their process or begin using different clinics without notice. Payers can change their rules and edits in their systems again without notifying you. You must stay on top of these changes or risk having your rules be out of date causing significant issues like increased denials and delayed payments.
Rather than relying on reports only, effective use of dashboards enables you to monitor workqueues, rule volume and aging, claim counts and trends to carefully watch for trends or changes. This continuous monitoring allows management and staff to investigate changes and quickly request edits to their rules to avoid workflow interruption. Paying attention to your rules is an important way to ensure revenue cycle integrity.
Testing
The team at Epic is always adding features and functionalities that you will want to add to your system. They typically provide special updates (SU) packages during the year and a major upgrade annually. These changes will impact multiple elements of your system so they must be monitored and managed closely.
This means for every change, you need a collaborative effort with the IT, patient access, revenue cycle and clinical teams to conduct comprehensive testing scenarios in realistic testing environments. Unfortunately, testing is often done in silos – only in the single module in which a change has been made. It's critical to consider the big picture and conduct integrated testing when making changes. You need to test not only within the module being changed, but also across multiple modules for your complex workflows. Testing should happen after any changes (new or amended rules, special updates or a new release) take place.
Another example of testing workqueues would be to take "before" snapshots prior to changes, apply the changes, run the batch job to re-evaluate the rules for the workqueue and validate the workqueue counts are appropriate for the change that was applied. This testing is very helpful in special updates and release testing to validate that no negative changes have been made in the upgrade process.
Benchmarking
An effective way to determine how your system is operating is to compare your results to peer organizations. Epic helps you do that through their Financial Pulse feature. Epic sets up your key performance indicators (KPIs) and runs your actual results in the background making tracking your performance simple. Your data is then compared to other Epic users to provide a gauge of your performance. You can specify the type of organization you want to benchmark – pediatrics or academic for example – to ensure your comparisons are against truly like organizations. This is a feature that organizations must opt-in to participate, so not all Epic customers are in the comparison. However, once you opt-in, and you are a high performer, you get listed with the top organizations as recognition for that KPI in Financial Pulse.
If, like many organizations, you are operating several disparate systems, you will need a tool that imports and consolidates your data to enable in-depth analysis. The appropriate tool will enable you to conduct continuous monitoring and provide alerts for key indicators to help you identify missed revenue generating opportunities or potential leakage in your revenue cycle.
Whether operating in an exclusive Epic system or in a multiple system environment, you will want the ability to drill into your data for further investigation to get to root cause of any issues. The goal then becomes correcting those root causes instead of simply fixing problem transactions.
Epic provides a wide array of tools and features to help you optimize your revenue cycle. It's up to you to use in-house staff or third party resources to help you take the most advantage of them. Concentrating on these four areas is a good place to start.
For more information on how to utilize your Epic system to optimize your revenue cycle, download our roadmap, Leveraging Epic to Enhance Your Revenue Cycle: 3 Keys Areas.