Claims denials continue to be a thorn in the side of most healthcare organizations. The transition from manual to electronic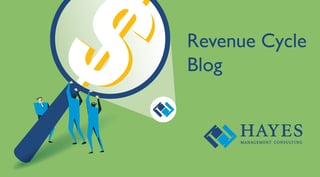 documentation and billing has helped but denial rates still consume an average of nearly three percent of an organization's net revenue annually. In recent years, denials have grown to encompass 15-20 percent of the billing value of total claims. That can mean a $6 million hit for a 200-bed hospital to over $260 million for an 1100 bed facility.[1]
And things don't figure to get any easier. The switch from fee-for-service to value-based care will complicate billing even further despite new technology solutions. Value-based payments are complex and will undoubtedly lead to more denial issues.
Reducing revenue leakage due to denials is usually at the top of every organization's focus list. Here are three things you can do to better manage your claims process and minimize denials.
Move from static metrics to evolving trends
Management consultant Peter Drucker has said what gets measured, gets done. But you won't be successful in resolving a problem unless you're using the proper measurement. Using the wrong metric is one reason organizations fail to get their arms around denials management.
Traditionally, most organizations use 'net denials as a percent of net revenue' as their main key performance indicator (KPI) when measuring denials. To calculate this KPI, providers must track total dollars written off due to payer denials that are either not challenged with appeal or have exhausted all avenues for appeal. Most healthcare associations rate a 2-4% net denials rate as top performing, 4-6% as very good and anything higher as a significant problem. Within this metric, denials are defined as claims that are justifiably denied by a payer and therefore need to be written off.
All that is technically correct, but the metric is misleading. It doesn't consider accounts that have been denied partial or full payment but remain on active accounts receivable (A/R) while the claim is being investigated. Because of the complexity of identifying, segmenting, tracking, and reporting every payment delay and denial, this data is not usually available for this section of A/R.
Triage, an organization that assists providers in identifying and capturing lost revenue, estimated that anywhere from 30-70% of active hospital A/R is pending due to a payment delay or denial. The same study also revealed that 60-98% of all "denied" claims are eventually paid the full expected amount but the negative cash flow impact isn't captured when using the "net denials" metric.
Using the narrow "net denials" definition also leads to denials management programs that measure effectiveness primarily on net revenue denied or the net receivables lost due to something the provider did or did not do. These programs can mask a variety of operational deficiencies that result in higher cost and lower reimbursement.
To really understand and better manage your claims process, move away from the static "net denials" metric and build a model that provides an ongoing trend analysis by root cause owner. Conducting the analysis means identifying accounts where the primary payer has been changed after the final billing date, segregating service areas (inpatient, outpatient, ambulatory clinics, specialty units), then sorting by payer comment codes to group payment delays by reason and priority. Finally, sample select accounts to verify suspected trends, root cause, and account resolution activity. Looking at denials trends in this way will provide a much broader view of the impact of denials mismanagement.
Take appropriate action
Once you've studied your trends, the next step is taking corrective action to improve them. That involves reviewing the three main aspects of your claims management program: people, process, and technology.
People
Training and education are keys to helping everyone in the organization understand the impact denials can have and what they can be doing to help minimize them. Establish accountability and self-reporting by process owner, don't tolerate finger pointing and excuses, recognize improvement, and communicate the consequences for anyone who doesn't buy into the program.
Process
Review your workflows to uncover redundancies and time-wasting tasks and quantify the performance expectations for each task. To eliminate errors that could result in a denial, develop a comprehensive pre-visit or visit management process that includes pre-registration screening, gathering insurance information and moving back office functions to front-of-process to improve point-of-service collections.
You should also monitor quality in all areas where technical and clinical denials can occur, determine the top reasons for payment delays and focus quality initiatives to address them and establish a payment variance unit to identify both underpayments and overpayments.
Technology
Take advantage of the increasingly sophisticated healthcare software such as real-time eligibility systems. Use your 835 data to capture and report payment delays. Map this data to identify process owner and group the results into the 15-20 most common themes for reason for payment delay.
Leverage current technology platforms that can identify the most common delays, such as eligibility (technical) and medical necessity (clinical). This functionality exists in most healthcare applications but is often over-looked and under-utilized. Explore these before buying off the shelf bolt-on applications and services.
Stay in control
Establishing a tightened claims management program is only the first step in minimizing denials. You need an ongoing effort to stay in control. This means setting appropriate checkpoints and scheduling regular review sessions to report on the metrics you've established. Conduct regular process audits to close the loop on your corrective actions. Regular hands-on reviews are the best way to reinforce the importance of your program. If you start to see the results drifting outside your established parameters, conduct another round of corrective action to get them back under control.
Consider adopting incentive plans to get everyone in the organization on board and to offer suggestions for ongoing improvement. The best ideas often come from those closest to the action who also can have the biggest impact on solving the problem. Tap into that wealth of experience.
According to some estimates, nine out of ten denials are preventable, so analyzing root cause and instituting appropriate procedures throughout the claims management process is worth the time and effort.[2] And with value-based reimbursements roaring down the track, you shouldn't delay. Now is the time to get your denials management process in shape so you are ready for the changes to come.
To learn more on denial prevention in an increasingly value-based care industry, download our roadmap, 4 Key Steps to Preventing Denials.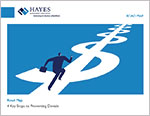 [1] Hospital Denials Management…Insurance Outsource or Both, HumanArc White Paper 2013.
[2] Hospital Denials Management…Insurance Outsource or Both, HumanArc White Paper 2013.