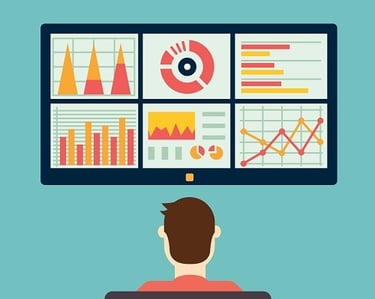 Post implementation of any system can cause concern for your Patient Accounting department. As we know with all implementations, the design and builds of any system are not perfect and frankly some implementations go better than others. There is often a delay in submitting claims immediately after go-live, which can be caused by a number of issues ranging from charges to edits to simply misplaced or lost claims.
As you assess your claims post implementation, there are a couple of key questions to ask yourself. Are you monitoring and addressing all of your accounts to ensure you are not missing or misplacing claims? Are there accounts that are falling through the cracks and at risk for timely filing?
Epic has a great tool to help alleviate this risk – called the HB Watch List on the Dashboard, which allows you to monitor critical areas. Epic, as with most systems, should be set-up to have all accounts driven to a work queue (WQ) either because it hit a Discharged-Not-Billed error (DNB) or Claim Edit (CE). The Watch List is meant to catch and show all accounts not on a work queue. Common examples include:
DNB Acct not on WQ

Stop Bill Acct not on WQ

Open Follow-Up not on WQ

Late Charges not on WQ

Account Should Be Discharged

Outstanding Self Pay not on WQ
By reviewing the accounts on these Watch Lists, you can tighten up the WQ rules to ensure all accounts are on either an Account (i.e. DNB Error) or Claim Edit WQ. Without the accounts in a work queue, you run the risk of these hitting timely filing limits. Reviewing the accounts on the Watch List can also shed some light on some system configuration "tweaking". For example, I had one client whose accounts were on the Watch List for DNB Acct not on WQ but there were accounts on this list that were actually on a work queue. After some research it was determined the Dashboard compile was happening before the nightly processing of accounts, which is when accounts are assessed and assigned to WQ's. This was easily remedied by changing the timing of the Dashboard compiled to occur after the nightly processing.
After reviewing accounts on the Watch List it also revealed a need for retraining. Some accounts had Stop Bills manually added with the intention of sending the account to another WQ. The client had set up their workflow so when a user applied an Account Activity it automatically added a Billing Indicator, which also added a Stop Bill to the account, which ultimately would be used to drive the account to a pre-specified WQ.
In order to ensure accounts are all assigned properly and the system dashboard is showing 'real' information, someone should be designated to constantly monitor the Watch list. This staff member's responsibility should be to continually monitor the Watch List so that if there are new accounts that fall into any of the buckets mentioned earlier, you can research, work with Epic, and close the gaps.
So, yes, post go-live there are a lot of things on the "to do" list, but monitoring the Watch list should be a high priority as it allows you to ensure proper claims processing and more revenue to your bottom line.