By Peter Butler, President and CEO, Hayes Management Consulting
As part of our commitment to helping healthcare organizations optimize their business processes to achieve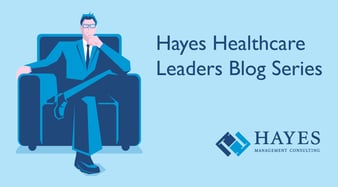 greater revenue integrity, Hayes has recently formed a Revenue Integrity Advisory Council (RIAC), a small group of revenue cycle and compliance executives who understand the real-world financial challenges associated with running a large, complex organization. We held our first meeting on March 20th in Chicago, where leaders from some of the nation's most prestigious healthcare organizations gathered for an afternoon to discuss issues, exchange ideas and develop new solutions for overcoming some of their most pressing concerns.
So what was on their minds? Not surprisingly, the topics covered a range of issues including telehealth, quality-based reimbursement, and high-cost drug reimbursement, as well how to organize the coding function and managing compliance issues.
Addressing these issues is essential as healthcare organizations across the U.S. continue to face increased financial challenges. According to a recent report from Moody's Investors services, hospitals' median operating margins fell from 3.4 to 2.4 percent between 2015 and 2016, while in 2017 expenses grew by 7.5 percent.[1] Trends like these are the key reasons healthcare leaders are more focused than ever on optimizing revenue integrity within their organizations.
To help alleviate this financial pressure, many healthcare executives have implemented revenue cycle management initiatives, which sought to improve financial performance by focusing on tightening existing claims and billing processes.
But forward-thinking leaders are recognizing that a more comprehensive approach is required – one that focuses on optimizing the entire revenue stream and enhancing revenue identification, collection and retention. That is the goal of revenue integrity.
Here are the five key issues that our members discussed at our first meeting.
Telehealth
Telehealth is one of the fastest growing areas in healthcare today. It is being implemented for screening/triage, behavioral health, coordination of care, addressing proximity/availability of providers and enabling patient-centric applications to drive better care outcomes such as tele-stroke, remote monitoring of ICU and tele-concussion.
CMS is leaning toward in-home care and their actions will set the tone for further telehealth use and development. It's expected that patient-centric case studies will create compelling arguments for payer contracts and reimbursement.
One of the challenges with telehealth is getting organizations to recognize the benefits of telehealth initiatives – such as cost savings and improved outcomes – instead of focusing solely on reimbursement. Organizations will need to invest in treatment or services they may not get paid for right away, but once they are able to demonstrate the value, payers will be convinced to reward and reimburse telehealth.
Quality-based Reimbursement Models
The shift to value-based care reimbursement models continues to be a challenge. A particular area of concern is the level of reporting detail required by these new models. Some EHR's are overly complicated, making it difficult to generate reports with the necessary level of granularity. Staffs are spending an inordinate amount of time pulling reports and digging into discrete data fields trying to produce the proper documentation.
There is also a pressing need to improve the quality of coding and documentation, especially while the patient is still in the hospital. Some organizations are building databases of indicators and holding onto bills so they can all be reviewed. The challenge is determining how long the backlog of bills under review should be kept. To help ensure proper reimbursement and avoid denials, all reviews should be based on identifying issues that are consistent with what payers are seeking.
High Cost Drug Reimbursement
Biopharmaceutical companies are making huge strides in developing new drugs that can drive improved health outcomes. But getting reimbursed for administering these therapies continues to be problematic.
The greatest challenge appears to be addressing denials associated with high-cost oncology drugs. Significant effort is being spent trying to understand what Medicare will and will not pay for with these types of drugs. Most organizations eventually get paid, but they must supply extensive protocols and documentation to support the claims.
Many organizations are working to develop processes for the use of "brown bagging" – a term for "off-label" pharmaceuticals that aren't developed on site in their own pharmacies. Some providers don't understand the implications of "brown bagging" medications, and the requirements they must adhere to in terms of certifications with pharmacists, storage and administration protocols. Adding online drug protocols for quick access by providers can help.
Centralization, Accountability and Ownership of the Coding Function
With so much emphasis on coding accuracy to determine proper reimbursement, more focus is needed on the organizational structure of the coding staff.
A number of organizations are beginning to move the HIM/charge capture/coding functions from the IT department to the Revenue Cycle group. Many are looking for guidance and direction on the best way to accommodate that shift. Some are finding it more effective to consolidate these activities – denials follow up, compliance auditing and coding, and Q/A focus on optimization – under a single executive director.
Training is also critical for coders to develop competencies for the various levels of coding. Establishing a professional development track – and clearly defining what is expected in terms of throughput and quality – is also important. Partnering with local community colleges can be an effective way to provide training.
Compliance Issues
The growth of managed care companies is putting additional pressure on compliance teams who are struggling to deal with the thousands of additional audits they receive from these companies. Many are finding that when developing their audit plan based on the OIG work plan, they should include the compliance team – even if the focus is primarily on Medicare-related audits.
An ideal organizational structure would be to have compliance professionals within each department (business office, finance, clinical service line) who could share reports such as denials, concurrence rate and response rate of providers with the Compliance Officer. Implementing dashboards with key metrics can also help mitigate compliance issues.
An Evolving Landscape
There are clearly many issues facing organizations who are looking to enhance their revenue integrity. In future meetings, the Hayes Revenue Integrity Advisory Council will be discussing topics such as potential future developments from the state and federal government and leveraging data to create value in patient access, operational efficiency and predicting financial outcomes.
By actively engaging with healthcare leaders from across the country, we can begin to work together to develop plans to help ensure everyone's mutual success.
For more information on Hayes' revenue integrity solutions, feel free to download our white paper, Revenue Integrity: Why A Comprehensive Approach to All Revenue Streams Is Crucial To Your Bottom Line.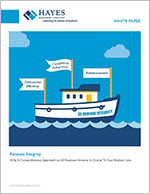 Sources Used: [1]10 top healthcare finance trends of 2017, by Susan Morse, Healthcare Finance, December 28, 2017.