In today's dynamic healthcare environment, it is more common than not to rely on an outside resource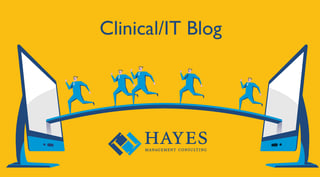 during times of change. Whether it's organizational restructuring, system implementations or staffing deficits due to illness or family emergencies, you have likely needed to outsource. Speaking as a healthcare consultant, when I start a project there is an expectation to immediately pick up where someone left off. Not only are you looking for a seamless transition, consultants want to make it as easy as possible jump in and help during a transition. So what is the best way to get your resources up to speed? In a word – documentation.
It's easy to think of this hand off as running a relay race and the time comes to pass the baton to the next person. The runner wants to be able to hand it off properly and the person receiving the baton has to be ready. If the hand off is not done correctly, they could lose the race, or in this case, slow down workflows, risk insufficient revenue collection, or experience an unsuccessful implementation. If your staff is the first runner and your independent expert your second, then documentation is your baton. Documentation can take all sorts of forms; anything from meeting minutes to communicative emails to gathering workflow information from other departments.
Inaccurate or incomplete documentation wastes organizational time and money. For example, think of the time it takes a coder to contact a physician to clarify documentation. If this staff member leaves and is part of your revenue cycle, it is costlier yet to send an inaccurate bill out the door to be denied or only partially paid. By ensuring your knowledge transfer is complete and accurate, your staff will be able to spend more time on other necessary tasks and your organization won't feel the consequences from a less-than-ideal documentation process. On the front side of things, correct documentation and knowledge transfer will not only allow patients to receive better and more thorough care, but you improve the likelihood that your invoices are reimbursed, your workflows are fluid, and your resources are optimized.
When passing the baton there are five key points to remember:
Gather information before there are staffing changes
Obtain as much information from your staff before they leave or change positions. It can be as thorough as a debriefing session before departure or as simple as penning a summary email. By collecting this documentation, the remaining staff and the incoming resource will be on the same page, know what has been completed, know where to start, and how to move forward with the necessary tasks, projects, and workflows in order to seamlessly pick up where the last left off.
Have a group mentality
When only one resource leaves at a time, it is easy to get caught up in the blame game and try to single out who has or has not done their tasks completely. This approach is a waste of both time and money. If your team approaches this transition with a group mentality, they not only give the new staff multiple resources of information, but it also ensures that everyone works together to experience as little disruption as possible. These small details can make the difference at an organization's bottom line and in patient care.
Don't be afraid to start at the beginning
If your new resource is not walking into an optimal situation and there is no documentation to speak of, don't be afraid to start at the beginning. What this means is that it is acceptable to back track if needed, especially if you have minimal information. By starting fresh, you allow your new resource to gather as much information as possible, learn all areas of what is expected of them, and move forward with confidence.
Move forward
Once documentation has begun, it is crucial to organizational success to start the momentum going again. Start documenting and store the information in SharePoint or some other shared document repository so that if there were to be any additional knowledge transfers, you are in the best position to do so efficiently.
Collect lessons learned
This goes hand in hand with the fourth tip. In order to avoid one of the most common responses when you ask someone to document their work ("who has time for that?"), collecting a lessons learned list will save time and unnecessary headaches later downstream. The reality is that we are all vulnerable to life's unexpected curve balls and preparation is key. Organizations without turnover files and solid documentation for their employee's processes are bound to pay for it at some point. Keeping a lessons learned file keeps your staff focused on moving forward and making your organization as successful as possible.
As I work with healthcare organizations, I weave in these five tips so they are able to ready staff to work effectively with new resources, set the resource up for success, and use documentation as a tool for organizational success. It's critical to know how to pass the baton in order to create the most efficient and successful environment possible.
For more information on training tips, download our roadmap, Effective Training: Keys to Improving Clinical Documentation and Financial Performance.