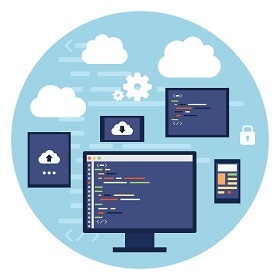 There's a lot of confusion about coding right now and for good reason. Beginning a few weeks ago, June 1st to be exact, many insurance carriers began accepting and processing preauthorization requests containing ICD-10 codes for services scheduled on or after October 1st - the upcoming mandated ICD-10 compliance date. As with ICD-9 codes today, providers and suppliers are still required to report all characters of a valid ICD-10 code. However, ICD-10 diagnosis codes have different rules regarding specificity and providers/suppliers are required to submit the most specific diagnosis codes based upon the information that is available at the time.
And this is where it gets confusing. As a provider, you must continue to use ICD-9 codes to preauthorize services scheduled through September 30, 2015. Some preauthorizations may span the October 1, 2015 compliance date. The code set of the preauthorization will vary, depending on the scenario.
CMS has identified potential claims processing issues for institutional, professional, and supplier claims that span the implementation date; that is, where ICD-9 codes are effective for the portion of the services that were rendered on September 30, 2015, and earlier and where ICD-10 codes are effective for the portion of the services that were rendered October 1, 2015, and later. In some cases, depending upon the policies associated with those services, there cannot be a break in service or time (i.e., anesthesia) although the new ICD-10 code set must be used effective October 1, 2015.
So how do you make sense of it all? The chart below will help to understand how to authorize services and provides guidance to providers for claims that span the periods where ICD-9 and ICD-10 codes may both be applicable.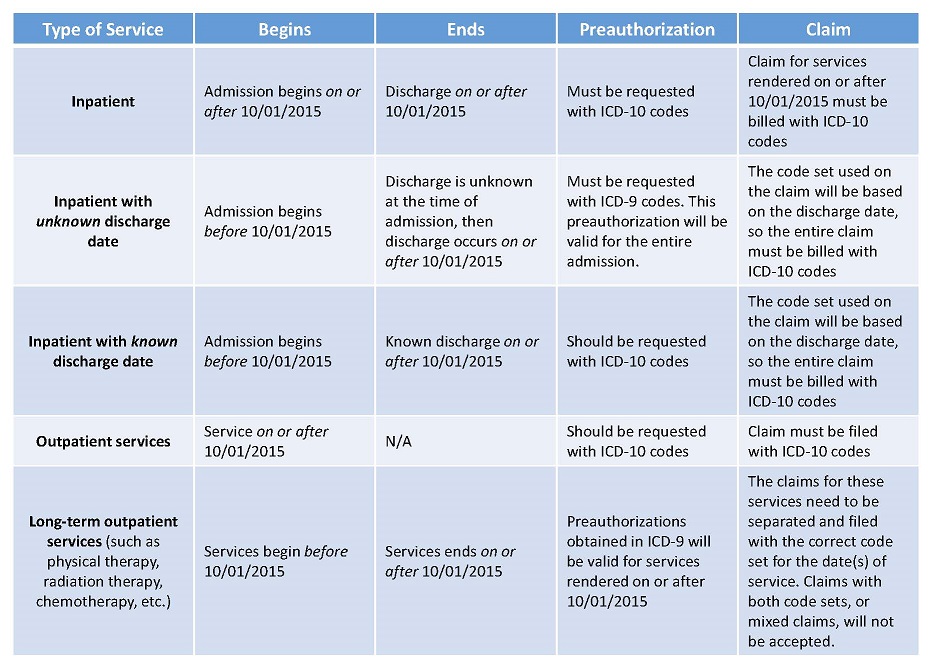 Some insurance carriers, such as Anthem Blue Cross of California, are offering their professional providers access to free Coding Practice Tools. A registration is required.
The free tool is being offered as a scenario-based coding practice tool designed to give physicians and their coders the opportunity to test their knowledge of the ICD-10 codes set by applying it to medical scenarios. The customized scenarios are based on provider type and specialty, so users can practice using codes relevant to them. Each specialty has up to nine medical scenarios to code.
The information presented in the medical scenarios is very similar to what is seen in a patient's medical record and used to code in the physician's day-to-day office setting.
Providers submit the ICD-10 codes and the information is compiled with the submissions of provider's peers in their specialty allowing providers using the tool to compare your results to their peers. The tool will be available until September 30, 2015.
Even though it all seems confusing now, once the ball is rolling and the switch over begins to happen, the correct coding will come with practice. Using this table and the suggested tools will get your more organized and help you feel confident and prepared for ICD-10.
Helpful links:
ICD-10 Coding Guidelines for Preauthorization and Claims Submission By Type of Service
Medicare Fee-for-Service (FFS) Claims Processing Guidance for Implementing ICD-10