This is the first in a series of four posts discussing how a revenue integrity program can help clinical, compliance and revenue cycle teams join forces to address the increasing challenges associated with compliance.
Over the past ten years, Christus Health, Banner Health and Renown Health have paid out nearly $33 million to the federal government to settle cases filed by a nurse who successfully pressed whistle-blower lawsuits against these organizations. The cases were filed under the False Claims Act, charging that the hospitals submitted incorrect patient billing charges to Medicare and Medicaid.[1]
As the scrutiny on healthcare organizations and their billing practices continues to grow, the risk of penalties and paybacks looms as an ominous cloud. Tightening regulations are forcing healthcare leaders to focus even more diligently on maintaining compliance to avoid the crushing financial consequences and tarnished reputations like the cases mentioned above.
Compliance leaders, revenue cycle teams and clinicians are all responsible for ensuring that their organizations comply with the rules and regulations imposed on healthcare entities. Yet meeting these demands often puts a strain on the relationships between these groups as each tries to address the issues that fall within their respective domains.
In many cases, carrying out these regulations can put these teams at odds with one another due to potentially conflicting aims. We've even heard stories of clinicians avoiding contact with compliance officers in hospital corridors due to ongoing tensions and communication breakdowns.
Roadmap to a better way
There is a more productive path to addressing healthcare compliance challenges.
Rather than operating in silos, departments and healthcare leaders need to find ways to bring clinicians, coders, compliance teams and revenue cycle professionals together so they can develop a unified effort around keeping their organization out of harm's way. Looking at the compliance requirements holistically, and blending the perspectives of each of these three groups, is more likely to lead to success.
Progressive healthcare leaders recognize the value that each group brings to the table:
They understand that compliance teams must focus on applying the law, which means enforcing rules and regulations through policies, audits and reviews.
They know that revenue cycle departments need complete data from providers in order to ensure that the organization is paid for the services being provided.
They empathize with clinicians – healthcare practitioners who have dedicated their careers to impacting the health of patients in a positive way – who have a passion for healing, but also want to be reimbursed properly for the care they deliver.
So what does this all mean?
It means that all three groups share common ground: keeping their organizations – and the patients they treat – healthy. So developing a more synergistic, collaborative approach among clinical, compliance and revenue cycle teams can result in dramatically improved results.
Revenue Integrity as unifier
There is an obvious way to unite the three groups and produce a fruitful relationship that benefits all parties: the implementation of a comprehensive revenue integrity program.
Revenue Integrity – getting paid for everything you do and keeping it – takes a broad view of the organization's revenue stream - one that directly involves clinicians, compliance and revenue cycle professionals.
Many of the penalties levied against healthcare organizations are not the result of willful misdeeds. They are often the result of regulatory changes; for example, the government may be mandating new codes, procedures and guidelines without providing adequate support or follow-up; or organizations may simply misunderstand and misinterpret them.
Other compliance violations may arise due to insufficient communication between revenue cycle, compliance and clinical teams. A robust revenue integrity program aligns the compliance team's auditing tools with revenue cycle requirements, while taking into account the needs of clinicians.
As more clinicians assume positions of leadership in major hospitals and provider groups, there is a growing focus on bringing these groups together. They bring a fresh perspective aimed at opening the lines of communication and developing a unified revenue integrity program that involves all three stakeholder groups. In the final analysis, this combined effort will accomplish everyone's overall goal – providing better healthcare outcomes while ensuring a financially viable organization.
In the second post of the series, we will take a look at the evolution of clinicians in the U.S. and how the steady increase in demands has contributed to the challenges for the three key compliance stakeholders
To learn more about revenue integrity and how it applies to your organization, please download our white paper, Revenue Integrity: Why A Comprehensive Approach to All Revenue Streams Is Crucial To Your Bottom Line.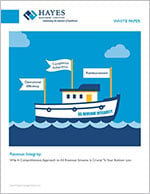 [1] Nurse collects $6 million in whistle-blower lawsuits against Banner, Christus and Renown Health, by Ayla Ellison, Becker's Hospital Review, May 7, 2018.