Healthcare organizations take pride in building and maintaining an effective internal auditing team. A robust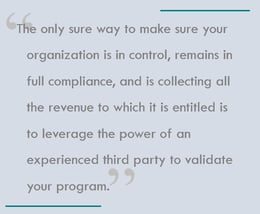 internal audit program is crucial to avoid the perils of penalties and overpayments that can sabotage both top and bottom lines. Yet despite their best intentions, healthcare organizations that rely exclusively on internal monitoring and auditing functions – regardless of how effective they may be – can face significant pitfalls.
To ensure that the organization's financial operations are performing to the required standards, it is essential that billing compliance programs go through periodic reviews from an independent, external entity.
External audits and reviews play a key role in evaluating the financial practices of healthcare organizations. For example, most organizations are familiar with the yearly visits from outside accounting firms to conduct the annual financial audit. The team comes in, verifies the books, checks the accuracy of inventory, reviews processes and procedures in the operation and front office, and provides an overall assessment of the company's financial systems.
Similarly, businesses accredited by quality programs like ISO 9000 are accustomed to having auditors from their registrars come in once or twice a year to review their documentation and operational procedures to make sure they are adhering to the quality standard requirements.
The only sure way to make sure your organization is in control, remains in full compliance, and is collecting all the revenue to which it is entitled is to leverage the power of an experienced third party to validate your program.
Here are five reasons you should strongly consider engaging an outside resource to evaluate your billing compliance program.
1. Additional Resources
The needs and daily responsibilities of the billing compliance team can sometimes be overwhelming. So finding time for the additional work involved in an audit – evaluating the OIG plan, identifying high-risk areas that may be targeted for external audit, monitoring charge capture and coding functions, and conducting denial root cause analysis – can be nearly impossible.
Bringing in a third party with experienced subject matter experts can help accomplish many of these tasks while allowing the internal staff to continue to manage normal business activities. An outside resource provides a keen focus on conducting its review and analyzing data without being sidetracked by day-to-day issues. This will ensure that the review is completed much more quickly than if your overburdened staff took on the task.
2. Objectivity and Independence
Internal audits can sometimes raise a question of conflict of interest. The reason finance and quality groups engage independent third parties to conduct audits is to avoid any appearance of such a conflict. Outside auditors are not unduly influenced by being too close to the people and processes within the organization. A third party can take a dispassionate approach to help uncover weaknesses that could expose your organization to negative regulatory action, or find opportunities that will enhance the financial performance of the organization. Internal auditors can often overlook issues, not out of dishonesty or incompetence, but because of familiarity that can sometimes cause "blind spots."
An annual external audit provides you with:
A validation of billing compliance risks and opportunities

(e.g., documentation and coding)

A review of charge capture process, including a Charge Description Master (CDM) check and charge capture reconciliation
An examination of your denial avoidance and root cause analysis process
A third party is more likely to be frank in suggesting potential changes, as opposed to an internal auditor who may be hesitant to offend a co-worker. Outside experts can also help avoid the "this is the way we've always done it" syndrome that can creep into an organization that is solely internally focused.
3. Broader Expertise
Your internal audit team is undoubtedly well-trained and competent in its ability to properly oversee your organization's billing operations. But by bringing in a third party, you can take advantage of a resource with specific skills in targeted areas like coding, billing, and denials.
These outside parties also have the benefit of working with many different types of healthcare organizations, and can thus bring an expanded base of knowledge into the engagement along with a broader understanding of industry-wide issues. Outside auditors are often better equipped to analyze compliance resource utilization and are likely to be up-to-date on government and industry trends. This allows them to be more thorough since they know what to look for because auditing is their primary focus.
4. Focused Tools and Methodology
Many organizations lack independent reporting and monitoring tools that are separate from their existing IT and EHR systems. This causes problems for internal auditors such as delays, incorrect reporting parameters, and incomplete data when attempting to conduct analyses.
A third-party resource overcomes these issues by deploying proven methods and technologies for conducting effective, in-depth audits. They are more likely to have analytics tools designed to provide continuous monitoring and anomaly detection using data collected from your various systems. This allows them to promptly identify risks as well as opportunities for improvement.
5. Recommendations and Implementation
Once the outside auditing firm has completed its review, their staff will be in an excellent position to provide recommendations for improvement that, in all likelihood, have been tested and proven in similar environments. They can help you steer clear of approaches that have proven to be ineffective in other organizations – thus saving you time, aggravation and expense. They can also help you implement any changes you have identified and agreed on – something that is crucially important, since you may lack the resources needed to put them into place.
Peace of Mind
There is virtually no down side to engaging with a third party to conduct an outside audit of your organization. They will either uncover issues you need to address, or validate that your current system is working well. This external validation gives you credibility with governmental and other third-party regulators, and gives you peace of mind that your revenue integrity and compliance programs are operating effectively.
In other words, you have nothing to lose and everything to gain.
For more information on creating a revenue cycle with integrity within the changing healthcare landscape, download our white paper, Improving Your Revenue Cycle Health: Why Continual Check-ups Are More Crucial than Ever.