Current Procedural Terminology (CPT) codes and diagnosis codes impact how insurance companies adjudicate claims and determine patient responsibility amounts. Healthcare providers can greatly impact the amount that the patient is liable for based on how services are coded and reported to the insurance company. Hospital and physician office staff who collect money from patients need to understand the basics regarding these procedure codes in order to minimize collection errors up front and reduce the likelihood of credit balances and claim re-work. So how can you help your front desk understand the impact of coding?
Understanding Global Periods
According to Medicare, all follow-up care is typically included in the 10- or 90- day global post-operative period for surgical procedures unless a complication lands a patient back into the OR, ICU or surgical center. Depending on the procedure, the post-operative follow up care is included in the original charge for a minimum of 0, 10 or up to 90 days. . The global period includes payment for all follow-up care the day after surgery up to the end date of the global period. It also impacts how collections should be determined at the front desk and collected upon for surgical follow-ups. It is critical that your staff be educated on the appropriate global periods and how to determine whether it is a 10 or 90 day period. Some organizations use alerts or flags in their practice management system to help staff determine the appropriate period.
When global periods are in effect front desk staff should not request co-payments from patients until the expiration of the global period. To determine the end date of a global period count the day of the surgery as zero and the day after surgery as day one.
It may be helpful to create a reference guide, similar to the example below, to assist your front desk staff with the accurate determination of a global period.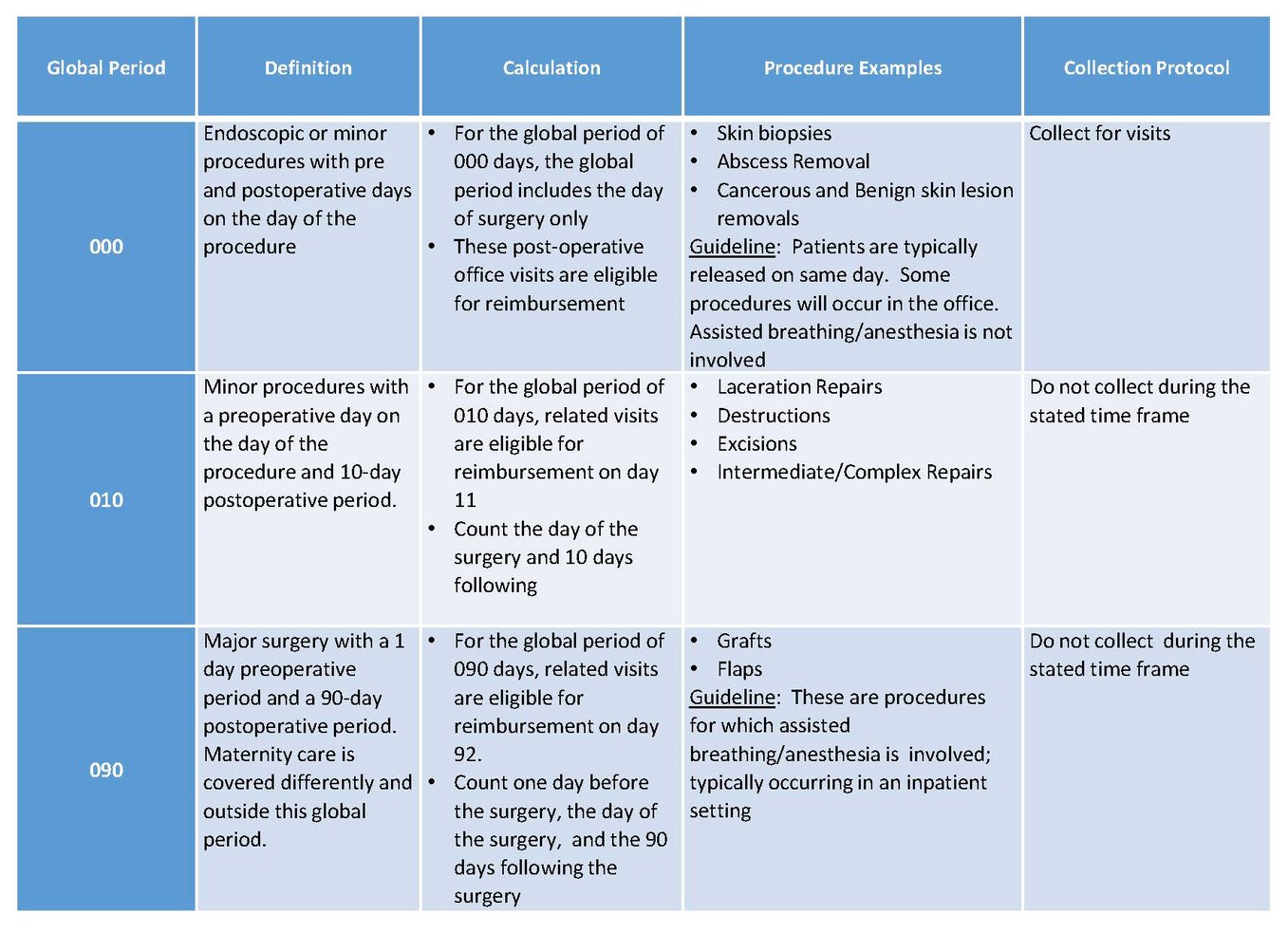 In addition to services that include global codes and procedures, there are other services that may reduce the patient liability in terms of co-payments or co-insurance dues. Insurance companies, in many cases, cover preventative services with no co-pay or co-insurance due from the patient for primary care services
Insurance Coverage
Verifying insurance coverage and benefits for specific services prior to scheduled appointment, will better outline what the patient responsibility is. Be aware that some specialty types of services such as mental health and vision benefits are often "carved out" from the general specialty care copays or coinsurance requirements and can actually have their own specific benefit guidelines. It is important to review the insurance eligibility response and determine the actual benefits based on the service being provided. Collecting a higher dollar amount than what is required can cause an organization to spend unneeded time, effort and money to reallocate or refund patient payments that should not have been collected in the first place.
It is imperative that front desk staff understand why patients are being seen and how the reason for the visit may impact up-front collections. Concepts like global periods, preventative health care and carve out services will determine the necessity of an upfront collection. Provide your staff with updated information from your payor mix; guidelines can often vary based on what the payor has chosen to implement. Make sure that you are providing the right technology, workflow, and training for your staff to understand how to verify eligibility and benefits coverage for the patient. Often times, employers look for staff that demonstrate excellent customer service and interpersonal skills, but forget to train them on determining patient liability. To succeed in today's healthcare environment, you need to do both.