Thanks for your interest in our white paper, Revenue Integrity: Why A Comprehensive Approach to All Revenue Streams Is Crucial To Your Bottom Line.
What exactly is revenue integrity? There have been a number of definitions but to us it means a holistic view of the entire revenue stream - so you can collect, find, recover and retain more revenue.
With this white paper, we define revenue integrity, how it applies to your organization and why a comprehensive approach to all revenue streams is crucial to your bottom line.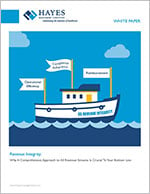 White Paper:
Revenue Integrity: Why A Comprehensive Approach to All Revenue Streams Is Crucial To Your Bottom Line
Fill out form to download