Research from the Medical Group Management Association (MGMA) estimates that payers underpay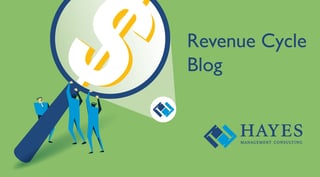 practices in the U.S. by an average of 7% – 11%. In a time when budgets are tightening and reimbursements are shrinking, it's more important than ever to make sure your organization is being paid correctly. Some organizations take this seriously but many don't spend nearly enough time focusing on underpayments and their bottom lines suffer as a result.
Forward looking healthcare systems that are committed to a robust revenue integrity program, take the time to analyze their revenue and reimbursement details. Based on their success, it is clear that it's worth the time and effort each year to make sure your contracts are up to date and that that you are monitoring your underpayments on a regular basis.
Staying on top of your underpayment activity is not as difficult as it may seem. There's a good chance someone at your organization already has the information needed to get this ball rolling.
Here are three key things you need to implement an effective reimbursement analysis program.
Your reimbursement contracts by payer
If your organization has a contracting department, they may already have the reimbursement amounts handy or certainly have access to this data. This information breaks down what you are to be paid according to the Current Procedural Terminology (CPT) code the provider used for each service.
If you don't have a contracting department, you should still be able to obtain copies of the reimbursement schedules. Depending on the payer, you can find the schedule online or you can directly reach out to the payer - especially if you have customized contracts that payout differently than the standard reimbursement amounts.
A method in which to store them
Once you have the reimbursement schedules, you need to decide where to store the information. Fortunately, many systems now have the capability to load reimbursement contracts by payer. If your system doesn't have this capability, you can collect, analyze and store the data in Microsoft Access or with another BI reporting tool. You can always store the information externally and write the applicable rules to account for modifiers, provider types, date of service and other relevant data points.
A way to report your underpayments
Once you've loaded your reimbursement schedules into your system, you need to figure out a reporting method and schedule. In my experience, organizations have found that monthly reporting works well but this, of course, varies between organizations and the payer. Having an on-going living document like a spreadsheet which you can update regularly by the appropriate resources usually works best. Keep in mind that each payer may have different requirements for what they need to see in the report you send them, but you can work this out with them ahead of time to be prepared.
A third-party expert can provide valuable help in this area, especially if your limited resources are stretched thin already.
Just as important as reporting the information back to the payers is having a process in place to check additional funds when they arrive. This is a crucial step since you don't want to assume anything. This is another area where a third-party resource can help manage the process for you.
Although the process may seem complex and time consuming process, more than likely many of the pieces you need are already available. You only need to assemble them into a consolidated process.
One thing is certain. The effort is worthwhile and will pay off as you collect more of your legitimate receivables and improve your overall revenue integrity. Eliminating underpricing charges and not getting reimbursed is a major issues for many healthcare organizations. Taking the time to conduct a thorough underpayment analysis will have a positive effect on your bottom line.
For more information on a thorough discussion on how to achieve revenue integrity, download our white paper, Revenue Integrity: Why a Comprehensive Approach to All Revenue Streams is Crucial to Your Bottom Line.