The risks of non-compliance in the healthcare industry have never been greater. In fy2016, the HHS Fraud and Abuse Control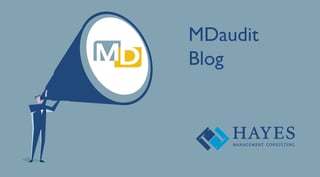 Program returned $3.3 billion to the Federal government and private parties. The Department of Justice (DOJ) opened 975 new criminal health care fraud investigations.[1]
In fy2015, Medicare Recovery Audit Contractors (RAC's) identified and corrected 619,000 claims resulting in $441 million in improper payments - $360 million in recovered overpayments and $81 million in underpayments repaid to providers.[2]
With both top and bottom lines continuing to shrink, you can't afford to be hit with a massive overpayment penalty or to undercharge for patient activity by hundreds of thousands of dollars.
The key to managing both risk and opportunity is getting into your billing and collections data, and for that you need a robust analytics solution. Here are four opportunities you can take advantage of with a comprehensive analytics program.
Encourage compliance and revenue cycle collaboration
More organizations are beginning to understand that compliance and the revenue cycle are two sides of the same coin. To that end, revenue cycle and compliance groups are beginning to partner to address overlapping compliance and financial risks. This partnership is facilitated by being able to access common data.
To minimize risks in both compliance and the revenue cycle requires focusing on your transaction activity. Using the latest analytics tools can be an effective method of mining this mountain of data to identify potential risk areas, get to the root cause and implement corrective action. Taking a global approach to risks and opportunities from both compliance and revenue cycle perspectives not only ensures better outcomes, but also reduces the cost of auditing and risk management.
The data often reveals that the risks inherent in both areas are common ones and managing them with a combined team can be both efficient and economical. In the end, breaking down departmental silos and focusing on a global compliance program can make a significant impact on minimizing your risks and uncovering opportunities.
Minimize denials
Claims denials continues to be a significant concern for healthcare organizations. According to some estimates, denials cost healthcare organizations nearly three percent of their net revenue annually. In recent years, denials have grown to encompass 15-20 percent of the billing value of total claims. The rise of alternative payment methods and the drive to value-based care increases billing complexity and can exacerbate the problem even further.
Using relevant data uncovered through analytics can help you better understand and improve the process. Data-driven discussions with the billing and coding teams can be particularly productive. Denials prevention is another area where increased partnership between the compliance team and revenue cycle group can be helpful. A collaborative effort to create automated processes to enable a deeper dive into the data can help get to the root cause of denials and develop corrective action plans.
Analyzing global pools of data rather than reviewing individual transaction incidents leads to more effective root cause analysis by revealing patterns and uncovering flaws in the process. From there you are better able to identify root cause owners, designate process owners and develop remediation plans.
Improve communication
Use of analytics can help break down silos and improve conversation between all groups in an organization. For example, one of our clients saw a dramatic change in the way they handle PEPPER reports.
The timing of PEPPER reports can be strange, coming 90 days or more after the close of a period. It was often a challenge for them to bring together teams from quality, revenue cycle, coding, billing and compliance to discuss the PEPPER report results because the information is so dated. They solved this problem by using analytics to develop reports that mirrored PEPPER but were provided on a more timely basis. Then when the official PEPPER report came in, they were able to have a more productive dialogue comparing and contrasting with the data they already collected. This helped everyone get on board with the conversation.
Analytics also improves discussions with physician groups because now you have actual data and not just anecdotal slices of time from six months ago. This allows unemotional conversations based on objective data.
Improved communication comes from having the entire compliance team review the analytics results – compliance officers, auditors, trainers, and investigators. This brings each of them out of their narrow areas of focus and provides a beneficial, global view that can improve understanding among all the groups.
Provide the broader view
Having an analytics dashboard allows you to monitor the "big picture" on an ongoing basis. This enables you to immediately adjust to issues and potential risks and opportunities that arise.
The broader view of the data provides common ground with other stakeholders. This enables you to have higher level conversations to initiate actions and improvements that can benefit the entire organization. It also provides the support necessary to drive more effective training and education that can help prevent issues from arising in the first place.
Most importantly, having a wider view allows you to address issues as they occur. Many problems can be diffused or avoided altogether if you are able to react to them in a timely manner.
The solution to many of the problems in healthcare organizations today resides in the vast wealth of data being created every day. Leveraging an end-to-end analytics process to collect, categorize and study this data and turn it into actionable insight is an effective way to deal with the growing risks you face. Proactively avoiding those risks while at the same time uncovering potential opportunities is fast becoming a necessity, not an option.
For more information on analytics within your compliance program, download our MDaudit roadmap, 5 Ways Analytics Can Help Power a Risk-based Audit Program.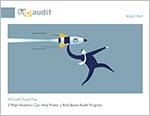 [1] The Department of Health and Human Services and The Department of Justice Health Care Fraud and Abuse Control Program, Annual Report for Fiscal Year 2016, January 2017
[2] fy2015 Medicare FFS RAC Report to Congress