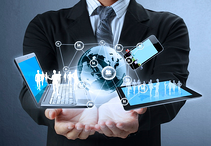 Managing a new software or application can be daunting, but that doesn't have to be the case. With a bit of planning, some strategy and an open mind, new software can help your organization produce maximum results.
Strategize through organization
When you learn a new process, repeat it out loud. Use your own words and craft a step-by-step guide that you are comfortable referring to when you run into a problem. If you verbalize, you are more likely to understand it in the long run. Creating a step-by-step guide for common tasks and processes centering on a new software will cut down on repetitive questions and help you to be independently successful without asking questions over and over again. It's common to see the same questions asked when supporting new or old software. To prevent the often time-consuming process, keep a log or a file in your inbox with support steps to share instead of starting from scratch each time.
Organize your inbox and files in a sustainable manner. Think about what is imperative to save and where you want to put it. Don't save so much that it becomes unmanageable clutter. Having an organized inbox will aid in your efficiency when you are asked a question that you have answered before.
Keep your head in the game
Understand how your software fits in and interfaces with your organization and into the end-user's daily work life. Develop relationships so that you won't be too intimidated to approach others. Personal relationships developed early on set you up for successful collaboration later. With successful collaboration comes innovative ideas and a positive work environment. Avoid becoming overwhelmed - focus on what is valuable to your learning process and completing your job and the organization's goal....
Practice and test – be your best
The best way to learn is by doing. Taking a step back from your daily work can help you find optimization ideas and opportunities for shortcuts. Find out which resources are accessible through your company. Ask if your organization has access to a test environment where you can practice checking patients in without worrying that you are actually checking them in. A lot of organizations also have access to user guides and trainings, and if not, YouTube/Google and many forums have valuable information. Many EMR vendors provide educational materials for their clients and users online as well. Speak to other users at your organization, other users can be great assets.
Thick skin, open mind
Although sometimes difficult when immersed in a transition, try not to take it personally if others do not seem as engaged in the process as you. For example, I am currently dedicating 99% of my time to support a new software at a large healthcare organization and while the software is vital to the organization, it's important to recognize that this represents probably one percent of the physicians' daily responsibilities.
Keeping an open, understanding mind is beneficial. Attending and presenting at industry conferences and looking for people with similar roles has introduced me to new networks of professionals that can help, share shortcuts and answer questions. Learning to manage a new software or technology can be overwhelming, but staying organized and leveraging the resources provided can go a long way to ensuring a smooth transition.
---