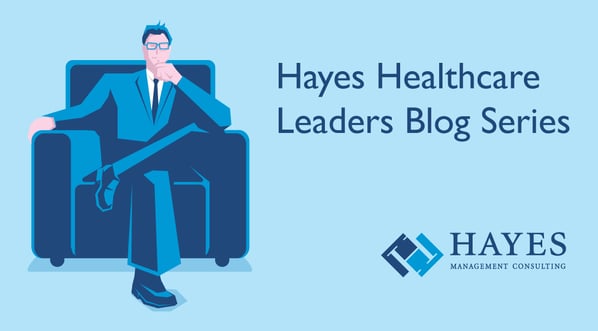 Hayes is pleased to introduce our Healthcare Leaders blog series. In this series, we ask some of healthcare's most prominent leaders to comment on the current state of healthcare as well as discuss what they think the future holds. Our first Healthcare Leader blog is authored by John Halamka, MD, CIO, Beth Israel Deaconess Medical Center and co-chair of the national Healthcare IT Standards Committee.
Advice for the Modern IT Leader
By John Halamka, MD, CIO Beth Israel Deaconess Medical Center
Recently I gave a keynote address about the characteristics of the modern IT leader - call it my top 10 list of behaviors and tactics. As a pre-amble, I offered an environmental scan of the regulatory and business challenges we're likely to face over the next five years.
All IT leaders have weathered the impact of the Meaningful Use program, ICD-10 implementation, HIPAA Omnibus Rule and Affordable Care Act. Over the past few weeks, the Sustainable Growth Rate fix, the 21st Century Cures Act, and the Burgess Bill have added even more complexity to IT tactical planning. Here's my advice.
Meaningful Use is waning as a program and will be a less important driver of IT planning for the next several years. The Sustainable Growth Rate fix incorporated the Meaningful Use program into a group of merit-based incentive payments, eliminating the penalties for missing Meaningful Use milestones. Given reduced economic incentives and penalties, many providers and hospitals may choose not to participate in the merit-based payments available.
ICD-10 will go live October 1, 2015 and most organizations have already finished their needed upgrades. There will still be training and cleanup after go live, but the IT work is largely done.
The HIPAA Omnibus Rule and increased auditing by the Office of the Inspector General will require a continuous focus on security, but much of the foundation has already been laid as part of earlier audits required by Meaningful Use.
That leaves the Affordable Care Act as the biggest unfinished project for many healthcare organizations and one that will have a profound effect on IT.
A new and different IT strategy needed
All our current clinical systems are optimized to record the clinical encounters of individual patients in a single provider location. They are not team-based, cross organizational communication systems which coordinate care, reduce cost, and improve quality for populations throughout a community. As I've written about before, we need a completely different IT strategy for a future when payment is based on outcomes and not fee-for-service.
Such a plan includes:
Team-based communication. The EHR needs to look more like Facebook and not a digital version of a paper chart in a single office
Population Health/Care Management. A Care Management Medical Record used by care navigators (care traffic controllers) needs to incorporate all the inpatient, outpatient, and emergency data from all sites of care so that gaps in care and variations from guidelines/protocols/care plans can be immediately detected and corrected.
Patient Generated Healthcare Data Patient generated healthcare data from activities of daily living needs to be incorporated into the clinical record so that we can detect changes in movement, vital signs, and disease progression in a continuous fashion, not just in a clinician office when the patient is already decompensated. Patients need to specify their care goals, especially end of life preferences, since cure/palliation/hospice is a continuum of appropriate choices, not a failure to treat.
Decision support from cloud-based expert sources. Knowledge services need to be incorporated into clinician facing systems so that care is consistent regardless of the setting - rural/urban, public/private, academic/non-academic.
Business process interoperability. Process Interoperability is needed, not just data exchange. What do I mean? The closed loop referral process to ensure a Primary Care Provider and Specialist coordinate care requires 11 orchestrated steps, not just the one time transmission of a transition of care document.
There are emerging products that support some of these functions, but the industry is still in a period of evolution. The challenge for CIOs is to "skate where the puck will be", at a time when business owners do not know what they need and vendors are selling future products that do not yet exist.
The future healthcare landscape
Healthcare itself will radically change during the transformation to value-based purchasing. No longer will we build new downtown ICU towers staffed with expensive professors, instead we will create patient-centered medical homes staffed with mid-level physician extenders and we will leverage the services of Minute Clinics. The IT systems we'll need to support the rapid expansion of services to the community will require the agility of the cloud, the usability of mobile devices, and the ease of use found in social networks.
Increasingly, we'll measure quality based on outcomes, not processes. We'll need to gather data from non-traditional sources to do this. For example, instead of reporting on the number of heart attack patients who received an aspirin, we'll report on their physical activity 1 year after the heart attack, i.e. did all our treatments, inpatient and outpatient, return them to a high quality of life with the ability to engage in the activities that bring them happiness? Rather than count the number of anti-depressants we dispense, we'll count the number of Facebook friends for each patient as a measure of treatment success. Watch for the need for non-traditional data sources and embrace it.
In some publications, I've been called "one of the crazy ones", proposing a future that seems outlandish at the time. I may be crazy, but occasionally, I'm on target. In 1983, when Steve Wozniak's mother asked me to invent something for Steve's birthday, I created and patented the electronic greeting card (e-card) in anticipation that someday, all the computers in the world would be connected by an "interconnected network". I can only hope that my predictions about healthcare will be as widely adopted as the e-card.